Image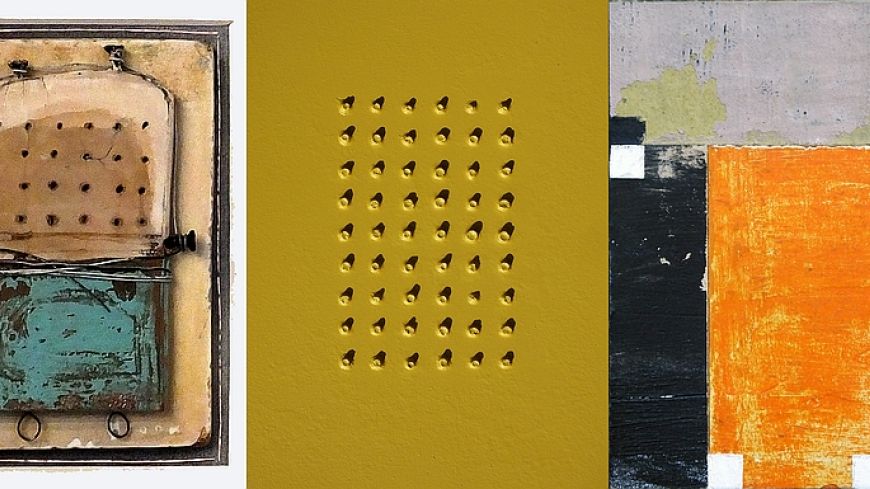 Production
Chris Brook, artist
Born in Yorkshire, Chris Brook lives on the east coast of the Scottish Borders and as a professional, award winning artist specialises in richly textured paintings and crafted artwork using reclaimed wood and other found materials. 
This new exhibition entitled 'Token' includes work from previous series, Traces, Quilt and Linear Land, the interconnecting themes depicting the environment - farmland of crop rotation, furrowed fields, fences, and all manner of boundary lines.   
The image to the right of the trio of illustrations (above) is from Linear Land, a grid of delineated borders, blocks and squares in grey and black with the bold splash of orange.  Inspired by the edge of places where land meets the sea, one could envisage a beach, cloudy sky, streak of sunlight and splashing dark waves.  
Through the relentless flow of the seasons, Brook expresses his personal, reflective vision of the changing landscape both natural and man-made. 
In the centre, is a mustard gold panel from the Fallow series, an abstract rectangle of raised circles which certainly evokes the remaining stalks of a harvested, ploughed corn field.  With its minimalist uniformity of lines, the engineered pattern might also represent the rivets on a sheet of metal – the viewer will certainly imagine their own meaning beyond colour and structure.     
The artwork on the left is Blue Token, featuring two separate sections, the earth brown square at the top like an arable field, juxtaposed with a turquoise blue block, connected with a loop of wires and screws around the side.  Using marks, scratches and peeled paint, this could reflect a rain-battered old door or perhaps the damaged hull of a wooden dinghy. 
This is just one of many contrasting works on a theme, through a contrasting colour palette, shape and design, with a similar effect to represent the erosion through the elements and time passing, as well as sculptured collages with layer upon layer of painted wood:  
" The elemental effect of time, and the fragility and preservation of time-worn surfaces, to reveal the partially hidden, suggesting traces of former occupancy. …offering insight into a tangible connection in both an historical and aesthetic sense. Mending and preserving are attributes which feature throughout my work, joining and fixing small artworks together to form a new whole, with visible fastenings becoming an increasingly integral part.'  Chris Brook 
His distinctive and unique style of work is reminiscent of the printmaking and collage artwork by Philip Reeves, (1931- 2017),  renowned for his economy of form and use  of scrap materials to represent urban and rural environments.
Likewise, here are many tantalising works with the use of what could be drift wood collected on the beach, and vividly coloured paintings in the Traces series, the surface so precisely marked, they have the effect of hard cracked concrete.  
Other highlights include A Way Through with thick swirls of paint adding such a tactile element in a casual, ad hoc manner, while Highs and the Lows  is a complex collage jigsaw of cut out shapes and scraped paint to reveal scraps of rust just under the surface. 
This exhibition illustrates only too clearly the passion and painstaking slow process involved in these mesmerising, minimalist,  yet richly decorative works of art.  Each one has a hidden narrative, a story of lost time and place, partially obscured below the veneer of the paint, created through finely crafted artistry and imagination.
'I work from the studio each day, I paint, I draw, I print, I make.
Mark making is paramount, serendipity plays its role, informing as to which direction any particular work follows.  Certain pieces will move closer towards completion, while others will be over painted allowing the process to start again.'  Chris Brook 
Chris Brook – Token 
Dundas Street Gallery, 6 Dundas Street Gallery, Edinburgh EH3 6HZ
2 – 7 September, 2023 -  Open, 11am – 6pm daily