Image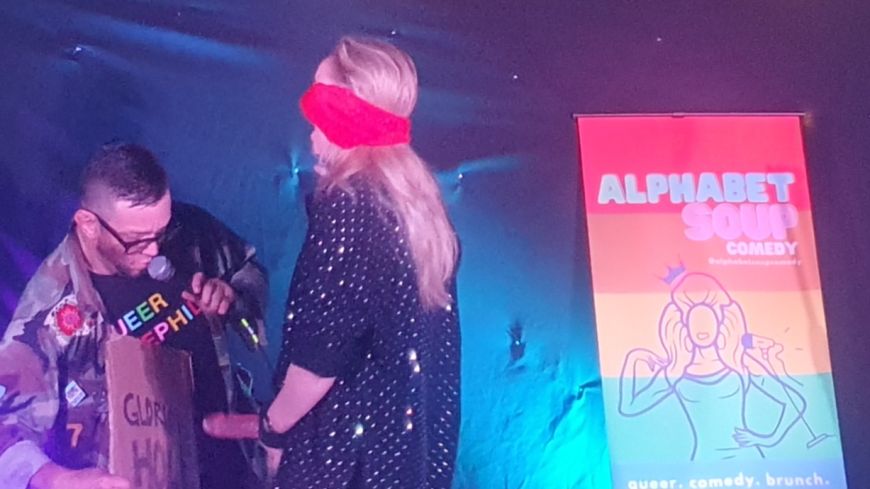 Performers
7G (host), Alyssa Poteet (host/comedian), Janaya Future Khan (comedian), Bill Strange (comedian), Fifi Dosch (comedian), Antjuan Tobias (comedian), Hank Chen (comedian)
A true celebration of diversity and inclusivity – a lovely relaxed atmosphere, with laughs in quick succession.
This act had incidentally received considerable publicity – both locally and nationally – earlier in the week, as one of those struggling to find affordable accommodation in Edinburgh during their stay for the Fringe. While a disused WWII/Cold War nuclear bunker came to their aid in that respect, the audience were clearly delighted to be in their company at Le Monde, for a comprehensively great afternoon.
One of the most impressive things about this show was the pace at which it moved – also the number of comedians and content that filled our packed programme. 7G and Alyssa were amazing hosts, with a dynamism and energy that was, at the same time, paralleled with both warmth and geniality. 
Many of the comics gave us a window into the pressures facing LGBTQI+ people in America: 'far away from the patriotic grooming of the USA, and now in trans-supporting Scotland' – where, as Janaya reminded us, even the weather is both bipolar and cold. They had us in stitches with images of toxic masculinity – and there were some great one-liners in this part of the performance.
Bill Strange, from the 'Just A Laugh' Festival attempted to explain poppers to the daughter of a male attendee, while the fearless Alyssa interacted wonderfully with the audience, before Fifi's rendition of 'Hopelessly Devoted'.
The various acts were interspersed with sketches involving the audience – from the 'glorious hole' and dildo games, to the competition to win a pair of 'Glad to be Gay' socks.
Antujan Tobias told us about racism in Alabama – though 'there is no place where racism is ever gluten free', and Hank Chen from LA concluded with a fantastic set, including having to chase the dog named 'Blackie' in Brooklyn.
While initially advertised as lasting 90 mins, we were later advised it would be 120, but in the end the performance finished at 2.15pm.
Alphabet Soup, Thursday 10th August, 1.00pm, Le Monde
Daily – until 28th August 2023: 1pm – £15 (standard) | £10 (concessions) | £40 – VIP (includes brunch & one drink)