Image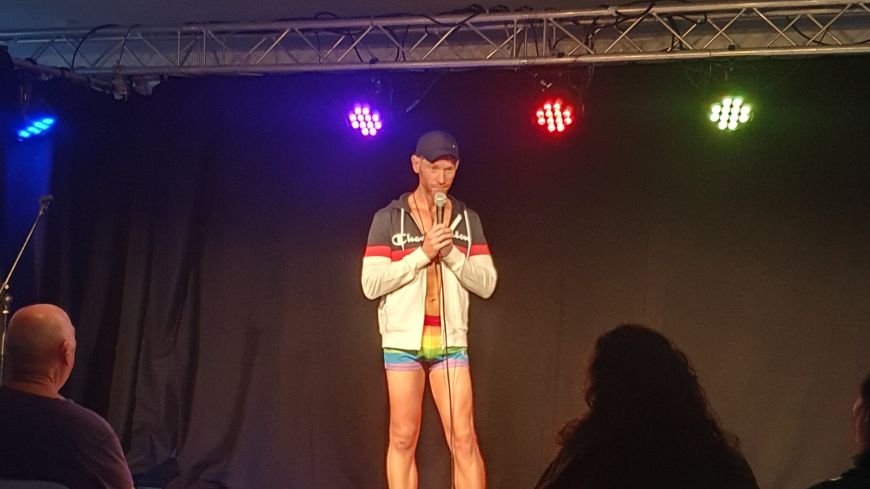 We were asked if anyone could count to 22 – a volunteer was duly found. And so we were poised to go through all those chapters of the act – beginning at number 3!
This was a big moment for Xander – who had begun by telling us he was the first: only gay male married maths teacher, with a lesbian sister and a teenage son, in his 40's… to perform at the Fringe. 
Apparently once told never to do stand-up in "clunky clunky chapters", the subsequent 'chapters' nonetheless covered a good deal of ground – from how gay people are told they're "a threat to civilisation", the influential priest and pushing the 'stool' in, the perils of wearing a denture, and concluding with the death of his mother. And of course the pride in being "A Gay Dad".
Unfortunately, the act lost its way at several points, and it frequently appeared hard-going. To be fair, this was one of those performances that would have benefitted greatly from a larger audience – for a one-man show trying to engage an audience in just single figures, the momentum was never going to really take off, and so it often seemed a struggle. You sensed that this sometimes drifted into personal testimony rather than stand-up comedy, and we were left having to decide whether it was really right to laugh. Nonetheless, this was a committed performance by an endearing performer, whose championing of the cause for unconditional equality, and thoroughgoing justice, certainly held our respect and sure admiration.
The performance finished at 8.15pm.
A Gay Dad, Tuesday 8th August, 7.15pm, theSpace @ Symposium Hall
8th – 12th August 2023: 7.15pm – £13