Image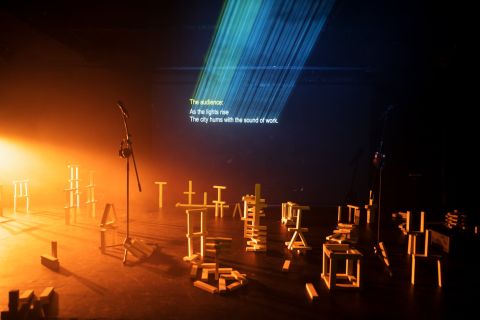 Shockingly unique in form, Work.txt at Summerhall is an inventive creation of user-generated theatre.
Even the concept is a commentary on work; there are no actors, no director: Work.txt has outsourced to the audience, who take apart the human experience of work culture by building the piece up from start to finish.
A script is projected onto the stage; volunteer actors emerge from the audience, unsure and unexpecting. We improvise what will be a city from a pile of yellow bricks; we speak universal truths, sometimes in unison, sometimes glaringly alone. 
A dissection of productivity, technology, groupthink, classism, corporate exploitation of art and, ultimately, the curious nature of humans to achieve for achievement's sake, Work.txt is a feat of theatrical engineering. What starts as a methodical and somewhat organised experiment devolves into a dizzying exploration of workplace camaraderie, mundanity of work and then, ultimately, the nonsensicality of work, especially as the dawn of AI replacement truly faces us now. 
"In 5000 years after the end of the working day, does colour land the interview?" Work.txt asks. "Does space dress for the job it wants?" 
Equally fitting both the daring participant and passive observer, Work.txt may seem like a gimmick by description, but this collective experience is unmissable and moving beyond measure. 
Work.txt tickets: here
Aug 18-21, 23-28 | 13:15
Suitability: 12+ (Restriction)