Image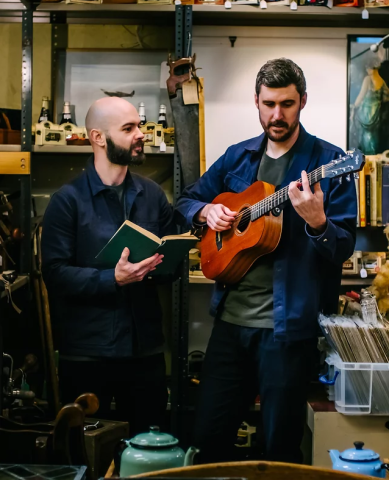 Company
David Head and Matt Glover
Production
David Head and Matt Glover
Performers
David Head and Matt Glover
Capturing the essence of venturing around an antique store, Unwanted Objects by duo David Head and Matt Glover is an atmospheric bit of melancholia about stuff, and the meaning ascribed to it. 
More a reading than a piece of theatre, this is beautiful writing, if a bit chewy at first. The piece finds its stride in the middle when the episodic tales come into play. Through poignant stories behind a ship in a bottle which reveals the cyclical nature of generational choices to a salt shaker that peppers through a varied life well-lived and from a teddy bear whose meaning hurts too much to a chess board which plays out the lifeblood and loss of a relationship, we explore the vitality of seemingly simple things. 
Meta and metaphorical, the magical realism throughout the piece is charming and the musical interludes add depth to the work; warmth and wit are abundant here.
Listening to the piece coaxes the audience to cast a glance at their own tchotchkes and the stories they represent, the meaning they may hold in our own lives. This is a pleasant way to start your morning, but as a theatrical production it would benefit from careful editing and more purposeful staging. 
Unwanted Objects tickets: here
Aug 18-28 | 11:25
Suitability: 16+ (Guideline)