Image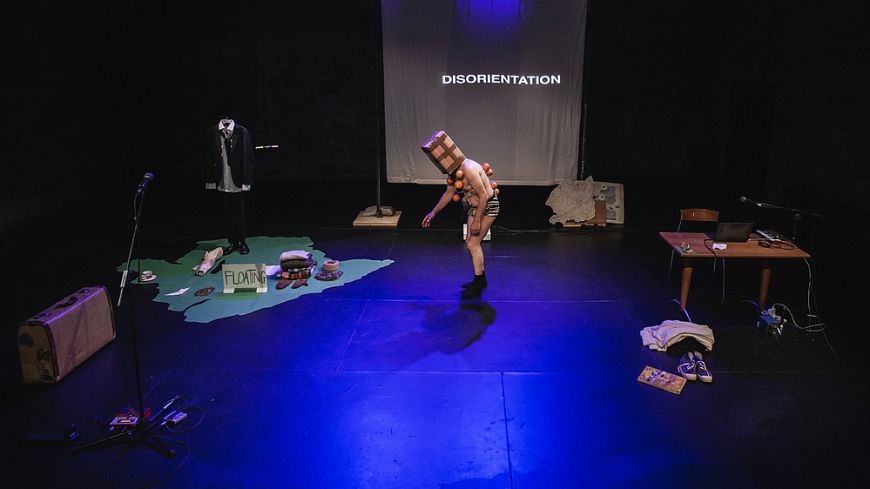 Company
SJD Productions, with Pontio, Bangor and Theatre Royal, Plymouth.
Production
Written by Shôn Dale-Jones (writer), Stefanie Mueller (director), John Biddle (composer), Danica Corns (producer).
Performers
Shôn Dale-Jones.
A video backdrop shows Shôn Dale-Jones retrieving props from a storage locker, or is it his alter-ego Hugh Hughes?  The two have had a 12 year on / off-stage relationship where reality and fiction have crossed over.
Hughes, an emerging Welsh performance artist, presented Floating in 2006, a years in the making mixed format show about the day the Isle of Anglesey breaks away from Wales and drifts up to the Arctic.
When Dale-Jones is asked whether he is interested in putting the show back on he is unsure.  Both he and the world have changed so much in the intervening years.  His plan was just to keep on swimming, but when he sees his suit from the show it floods back.
It's disconcerting to know whether he should be going backwards or forwards, so he does both, intersecting parts of the fantastical Floating past and the present with his return home.  
His leaving Anglesey all those years ago is viewed by his somewhat outlandish former headmaster as leaving reality and causing the problem.  The place is rich in myth and legend and the islanders are a breed apart with both Vikings and Romans contemplating conquest.  
The only settlers these days appear to be outsiders, with holiday residences resulting in half the houses being empty and a young couple and their baby forced to winter in a caravan. Returning to Dylan, his sculptor friend of 50 years, he finds him feeling disconnected as his native German wife has gone home, as for her Britain has disappeared, floated away. Shôn's ailing mother is contemplating a Viking funeral, floating on the smoke to the afterlife.
As the tale moves on the tide of past and present it mixes fanciful performance art (because the workshop was expensive) and the stark reality of the pub's TVs simultaneously showing both the war in the Ukraine and Love Island.
The result is a mischievous, somewhat surreal look at the basic need for a home, separate but connected things and a disorientating world where real life can feel like a fiction.
Not all the threads come together, but it does evoke an otherworldly feeling.
Show Times: 3 to 28 (not 15, 22) August 2022 at 7.15 pm.
Tickets: £8 to £13 (£10).
Suitability: 12+.