Image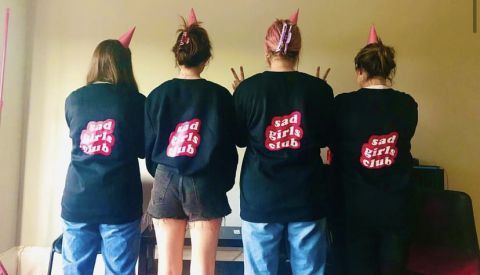 Production
Daniel Cullen (director), Hannah Morton (writer)
Performers
Hannah Morton (Jamie), Amy Clarke (Kelly), Hannah Sutherland (Allie), Emma McDougall (Cora)
The first rule of Sad Girls Club is to talk about Sad Girls Club.
Sad Girls Club is not a cult but more of a DIY self help group where people can come and just be... sad.
Jamie's boyfriend has broken her heart and can't stop talking - or crying - about it, so she has created a place where she can do both of those things ad nauseam. Really, the club is just a gloried excuse for her and her two best pals, Kelly and Allie, to drink a few bottles of wine and vent it out, but once Cora joins, the club is really in session. 
The girls take their turns going around sharing what makes them sad girls; Jamie's boyfriend cheated on her, Cora is a "little bit of a c*unt", Allie is an extreme people pleaser, and Kelly is struggling to make it as a writer and is unable to come out to her family.
But what was created as a space to cry and vent turns into a space where these girls finally find their voices and can be honest with each other and themselves in a way they never have before.
It's a feel-good show that brings up topics everyone can understand and relate to - even if you aren't a sad girl.
Tickets here
Aug 3-28 various dates and times
Suitability: 12+ (Guideline)