Image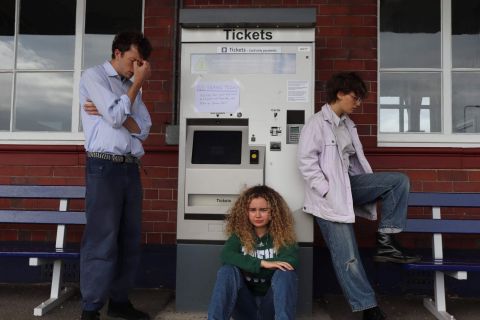 Company
Mermaids Performing Arts Fund
Production
Xavier Atkins, (director), Charlie Robertson (producer), Ted Walliker (technician), Gemma Barclay (marketing design)

Performers
Louis Wilson (the Stranger), Nell Lang (Martha), Taylor Webb (Sam)
Described as 'a comedy whilst waiting for a train,' the show starts with sound effects of a train and cooing pigeons which startle a girl lying across two chairs while her friend tells her it's time to get up. Is this their flat – where are we.? 
While the image above illustrates a realistic scene in a railway station, the minimalist black box stage does not represent the setting whatsoever - simply done with a sign for Platform 2a or Timetable poster.  Instead, a few bing bong announcements about bag security and that 'The 8.15 to Liverpool Street has been cancelled due to a lack of drivers.' 
Their ad hoc conversation is all rather bizarre while they puzzle over crossword clues, joking and teasing each other, when a stranger arrives, a businessman in a smart suit (but curiously dusty, dirty unpolished shoes).  Observing their odd behaviour, he remarks that he's not sure if 'he's walked into a living room or an avant garde play'. 
It seems the answer is yes, to the latter - and he's in it.
The girls - Sam and Martha - proceed to question the guy who is anxious about when the train might arrive to get to work. "Why not drive?" they suggest, their mood turning more aggressive.  Through a series of flash back scenes and sketches of farcical meetings with station managers, the dialogue becomes increasingly nonsensical.  Spotlight cues are often all over the place.  
Theatre of the Absurd: 'a shared intellectual outlook to communicate a social situation .. to represent the absurdity of human existence. ... an imagined world through which audiences look for meaning inside themselves.'   In the classic plays by Ionesco, Beckett and Pinter, we expect a surreal, comedic narrative, disconnected dialogue and pregnant pauses. We can however engage in the philosophical debate to understand underlying motive, relationships and empathy between the characters.  
No Time for Strangers certainly delves into absurdist drama, a Pinter-esque comedy of menace, but the meandering conversation and manipulative game playing is just wildly confusing. The commuter is called both Angus and Greg, who at first is heading to his office and then wants to go home, gradually becoming seriously manic. Martha is overly critical and seems to have little spark of personality, while Taylor Webb as Sam shouts and spouts her words parrot fashion in a monotonous voice lacking nuance and expression.  
Why should we care about any of them. Where is a sense of philosophical truth, dramatic meaning and human emotion?.
Some great quotes though: 'What are we doing here?', '…this is absolute nonsense' ..'you are seriously weird'  and 'I've had enough of this - of you'.
Yes, indeed. 
Showtimes: 22 - 27 August @ 11.50 am
Ticket prices: £8 (£7)
Suitability: 16+