Image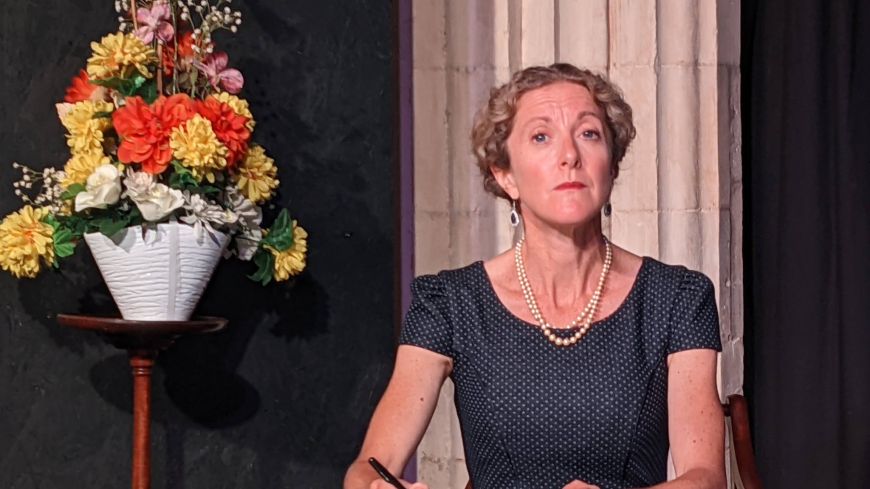 Company
Black and White Productions
Production
Suzanne Hawkes (Director/Writer)
Performers
Petra Risbridger (Wallis Simpson), Dennis Bowran (Ernest Simpson), Suzanne Hawkes (Cook), Stephanie Stoddart (Vocals) Bill Stoddart (Keyboard)
Everyone probably knows about the scandalous marriage between Wallis Simpson and King Edward VIII. However, unless you are a particular enthusiast, you probably don't know much about the six weeks she spent in Felixstowe as she awaited her divorce from her second husband, Ernest, so that she could be with Edward. 
In Mrs Simpson Gets a Divorce, we learn (mainly through an epistolary form) how Wallis felt during these six weeks; did she regret her hasty decision to leave Ernest? Was she ready for the commitment with Edward? 
To me, Wallis seemed insufferable. She was pompous to the kindhearted cook; she callously threw away her marriage to Ernest but taunted him with her doubts of divorce and willingly married Edward, knowing she never wanted such a commitment. I can only assume that was the intent behind Risbridger's performance; therefore, she was incredibly successful in her portrayal.
The play moved slowly, with the somewhat soporific amount of monologues overpowering the most provoking plot lines. The cook's interjections were a hearty welcome as she brought the most humour and a burst of personality. The musical interludes, presumably performed by husband and wife, were a great touch, too. It was a treat to have a live performance instead of a backing track and also brought a depth of dimension into pulling us into Mrs Simpson's world. 
Tickets here
Aug 15-27th | 15:05
Suitability: 14+ (Guideline)