Image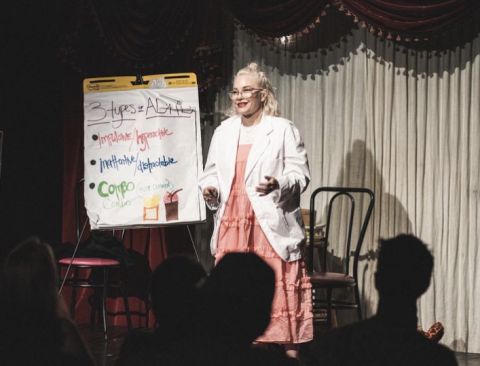 If you've ever been even mildly curious about what a lifetime of undiagnosed and untreated ADHD looks like, you need to book a ticket to Merrill Means Well immediately.
As she says at the top of her show, Merrill really does mean well, and as she recounts the many disasters she's found herself in over the years, you'll understand why it's essential that she makes that distinction. 
Her deadpan approach to some of her biggest mistakes (has your dad ever fired you twice for the same reason both times?) makes them even funnier.
She goes through the rest of her worst employment mishaps, her complicated relationships with family, and what life was like before and after her diagnosis, all with a solid heaping of hysterical self-deprecation.
She is colourful, creative, and a little bit crazy - she runs her show a bit like the way her ADHD probably runs her brain, attempting and hoping for the best but rolling with the punches as they come. 
At the end of her set, she realised she'd left out an entire bit, apologised for her mistake and, without skipping a beat, performed it anyway - and that's probably the best representation of ADHD I could ever imagine.
She performed to a small audience but deserved a much bigger one; this isn't the kind of show you see every day and her story is highly relatable even if you don't have a brain disorder too. 
Tickets here
Aug 5-20, 22-27 | various times
Suitability: 12+ (Guideline)