Image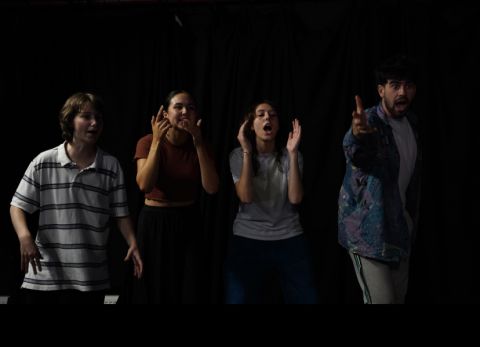 Company
Words in Progress
Production
Theo Collins (writer/director), Miles Molan (writer/director), Laura Moss (director)
Performers
Jack Medlin (Scott), Dominika Wiatrowska (Adara), Fuschia Webb (Liz), Lillian Jones (nurse/Aaliyah/waitress), Rowan Thorne (Chris/Julian/Sean), Miles Molan (Issac/Billy)
A student production well above its pay grade, Long Nights in Paradise will grip you from the first moment to the last. 
It is loosely based on the real story of Scott Cooper, who lost everything and plummeted from his middle-class life to sleeping rough and took advantage of what he thought was a victimless crime to regain it. The underlying theme that we are all just a few bad days away from our own fall from grace wasn't lost on me. If perhaps one thing in Scott's life hadn't gone the way it had - if there was just one decision he made differently - would it have ended up this way?
This six-person cast had no weak link, but Medlin, who played Scott, was the brightest star. His portrayal of Scott's descent was visceral, and his pain reverberated throughout the room - and yet when he remembered his dead wife, that pain was instantly replaced with perfect joy. 
Wiatrowska also gave an incredible performance as Adara; just a kid who wants to dance; her arc is devastatingly splendid as we watch her lose that childhood innocence and everything else she ever had. 
The multimedia addition amplified Collins and Molan's rich storytelling abilities; it provided a deeper layer of insight into the characters that live theatre can never produce as well as film could, and they cleverly found a way to get the best out of both. 
A tale about love and loss, desperation and downfalls, struggles and starting over - it deserves so much longer than a week, but that's all they have, so catch it while you can. 
Tickets here
Aug 22-27 | 11:45
Suitability: 16+ (Guideline)