Image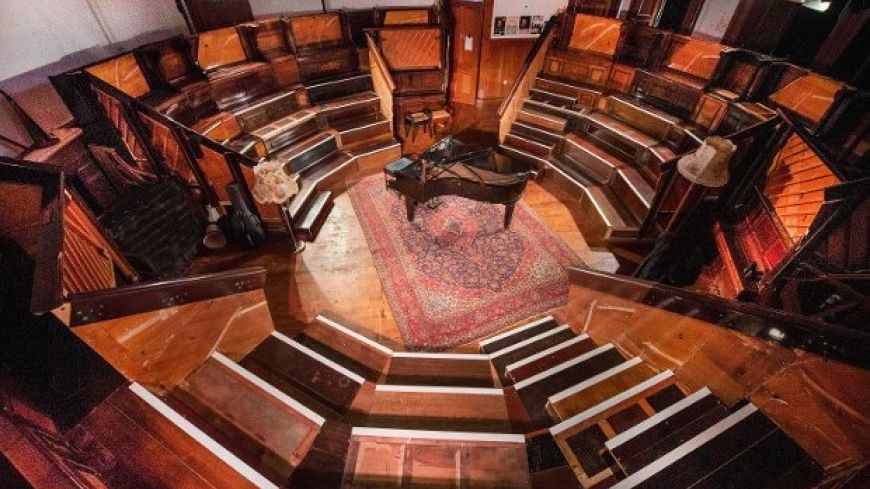 Production
Flying Piano Productions
"This is what music is, you know, a way to say how you feel."
But what does music say? It doesn't talk, does it?
Set in the round, in the stunning Pianodrome which is built from old pianos, I Piano takes us, its fellow music makers, on a magical journey to find the music; the piano has lost it, poor thing. Using clever lighting design, charming shadow puppetry and inventive projection, our piano man and little girl take us on an adventure through different lands, from Piano Mountain to Under the Sea, to find the music (very Phantom Tollbooth-esque). The whole design of this story takes the immersive quality created by the novel Pianodrome and takes it one leap further. 
With well-known, beautifully-played classical pieces dotted throughout, this is not just a musical show for kids but a moving classical concert for all. You might hear that and think, "Oh, my child won't sit through that," but they all did because Flying Piano Productions writes in enough interactive elements to hold the youngsters attention and interest for the full 55 minutes. 
Adults and children and invited to join in the silly musical improvisation, which makes this show different every time. On this performance, the repeating chorus, chosen by the children off of prompts "What is something yellow?!" (a lemon) and "What's your favourite thing to do?!" (eating ice cream), went, "Lemons like eating ice cream, too!" Fun!
The two energetic performers encourage the crowd to imagine what musical phrasing can conjure in their mind. The trills and staccatos could be a cat purring, a fish swimming, a river flowing or a dinosaur growling, but maybe the children have other ideas!
I Piano makes children of us all, the same expression of awe across every child from 2 to 92 years old. Watching the wonder across the faces on the structure's risers around you, mirroring your own, is as part of the performance as anything else. Ultimately, we all find the music together and learn that loving your neighbour makes for a harmonious world. An inspiring and playful piece, this golden hour at Pianodrome is the perfect opportunity to make musical memories together as a family.
I Piano tickets here
Aug 10-14
Suitability: 3+ (4-12)