Image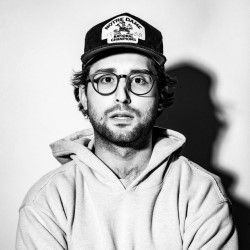 Performers
Brandon Barrera
An hour with 26 year old, New-Yorker Brandon Barrera is kind of like listening to a particularly talkative patron at a Brooklyn bar. Many of his rambling, personal stories and anecdotes revolve around drinking: odd encounters while drinking, bar bathroom culture, male bonding, or the time he and his friends were caught drunk-driving.
There's a buddy-to-buddy vibe to his show, from self-effacing humour about how he managed to lose all his prize-money in a popular U.S. TV game show to sharing how he's coping with the death of four friends in the last year. Though don't expect great, existential revelations, it involves pulling a girl he knows on "Insta" ("she was always hot, but she got hotter").
He waxes about his optimistic philosophy in life – working undemanding jobs for the money so that he can pursue his career as a stand-up comedian. The day job also gives him fodder for his stage life: like when working for one of the first legal marijuana farms in Florida he had a close call with the cops.
Barrera is adept at engaging and building a rapport with his audience. This particular night there was no more than 20 people in the house ("biggest audience yet!" he declared at the start of the show), and he'd regularly check in with us and respond to some gentle heckling from a group of women in their early twenties.
The stories are quite detailed and in the true raconteur tradition the journey is as important as the destination. He generally draws you along, but there is often no punchline or it's rather flat. Sometimes the humour is elusive and uneasy – like why he paid for sex with a prostitute in Barcelona - and gives the show a sense that the material is still evolving or, more likely, evolving for an Edinburgh audience.
But, hey, this is the Fringe. Why not? Even if the material doesn't yet take full comedic flight, there are chuckles along the way and Barrera works hard to keep you hooked. His show is likely to get better as the Fringe continues.
Runs til 28th August.