Image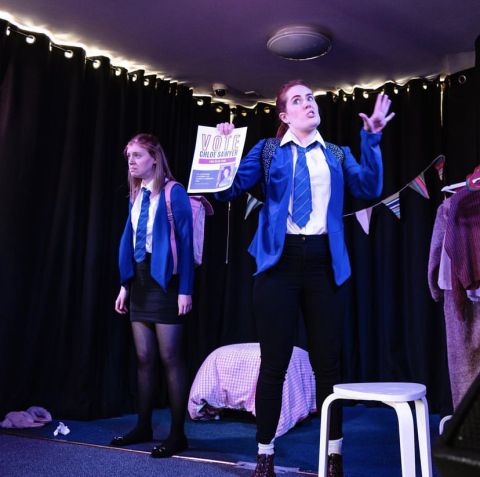 Performers
Caitlin Fairlamb (Becca) , Rowan Miller (Lily), Rosie Bowden (Director/Stage Manager)
Becca Taylor is running for Head Girl. Her face never stops smiling, and her ponytail never stops bobbing up and down as she says yes to everything that comes her way. She's 17 and trying to navigate life as an almost grown-up with the help of her mom, favourite teacher, and best friend, Lily (all played by Rowan Miller). 
Becca is ambitious, adamant, and anxious, and she's decided that becoming Head Girl of the school might be the thing to solve all three. But when Lily takes a career quiz that says she'll be PM one day and Becca's quiz says she'll be everything from a barista to a barrister, her plan starts to unravel, and she becomes even more obsessed with being Head Girl for the prestige it will bring and the path it will unfold.
Lily gets a boyfriend, her favourite teacher gets a job at a new school, and her mum is busy at work - Becca is working harder, sleeping less, and more lost than ever - and for what? Does she actually want to be Head Girl, or does she want a clearer vision for her life? Or does she just want to be liked by everyone and to have something that makes her special?
As she's about to unravel fully, the women in her life remind her who she is and why that's more than good enough and that focusing on self-care (which they cleverly note is much more than a face mask) couldn't be more important.
A heartwarming show written by the all-female team, Girl Next Door is about the power of female relationships. With many laugh-out-loud moments about the thoughts and habits of teenage girls, it makes you remember what it was like to be on the cusp of adulthood, waiting for your life to crumble and bloom all at once. 
Head Girl tickets: here (£4-£6)
Aug 7-13; 15-20 | 15:40
Age Suitability - 8+ (Guideline)