Image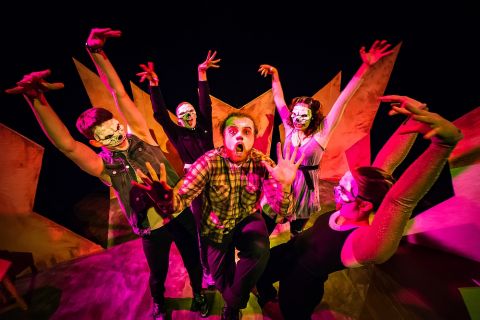 Company
Ugly Bucket and Untapped Award Winner 2022
Production
Rachael Smart and Grace Gallagher (directors), Duncan Gallacher (music and sound), Sascha Gilmour and Kirsty Barlow (set and costume directors), Stage Management by Kaila Sharples, Liz Barker (lighting designer), Grace Goulding and Alice Lapworth (guest chorographers).
Performers
Adam Nicholls, Angelina Cliff, Canice Ward, Grace Gallagher and Jessica Huckerby
"And the consultant came down and, erm, she said oh well you've got this great big tumour and it's done this and it's quite bad and whatever and I said oh … so what's, erm, what's the answer, what's the solution?  And she said … well we haven't really got one, and I almost half jokingly then said so what?  Do I just like … hang around and wait to die?  And she went … yeah."
This bleak prognosis led to the company's friend and mentor Tim Miles asking them to make a piece of theatre for his memorial, a comedy about death. They hope he likes it …well, he'll be dead.
All the world's a stage and so we embark on life's journey, the seven ages of man – if death doesn't intervene.
To ominous music the recently departed bursts from the grave amongst jagged "tombstone" shapes, somewhat shocked to be dancing to pulsing techno with a shudder of zombie clowns. His life flashes, fast forward, before our eyes as he is reluctantly birthed from a stretchy fabric womb. 
Death visits in a procession, from a toddler's interest in squishing bugs to puppies, grandmother, random accidental fatalities and the TV's litany of car crashes, fires, shark attacks, stabbings, shootings …  Just when it seems too much, there is the greater horror of insidious attacks within his own body.
The scenes are driven forward by recorded personal testimony, sharing real experiences of grief. These prompt a heart-breaking but humorous Christmas held early during a heat wave; a late conversion to religion that isn't orthodox; a woman who "people don't know how to talk to" landing on an alien planet.
When the ghost of a scent on a sheet can unleash a tidal wave of grief, how do we cope?
All aspects, from the design to the music and choreography make the production endlessly full of life. Some parts have less elan, and are not as hard hitting, but look at what they have achieved - they have made a unique, innovative show about grief which is not only funny but goes beyond entertainment and is profoundly affecting.
It doesn't have all the answers, but at least it starts the discussion.
(Good Grief is dedicated to Tim Miles).
Show Times: 4 to 28 (not 15) August 2022 at 3.40pm.
Tickets: £8 to £13 (£12).
Suitability: 14+.  Contains strobe lighting.