Image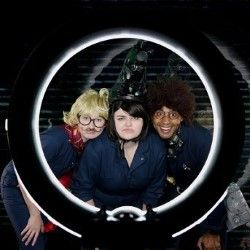 Company
ICTF presents Southwestern University and Grackle Jack Productions
Production
Sergio Costola (Head Producer/Dramaturg) CB Goodman (Producer/Director/Designer) Oscar Brian (Invisible Labor for Campbell) Harrison Ray Jones (Invisible Labor for Jaime) Jessica Workman (Invisible Labor for Dane)
Performers
(Charlotte) Campbell Duffy (Gayev) Jaime Hotaling (Alfonzo) Dane Parker
This was the opening night for an online Zoom-based rendition of this comedy. Technically, it had its problems which did impact on the show's delivery.
It's a ghost hunt, the exploration of a haunted mansion. The protagonists are a ragbag of techno nerds, self-obsessed weirdos and over-enthusiastic obsessives, the perfect combination for comedic shenanigans. They have the latest state-of-the-art ghost hunting equipment which is created with silver painted cardboard, converted hairdryers and anything that can be acquired from the dollar store - they are funny props. 
Green screen technology is employed by the 4 players with one finding the green screen failing! I'm still not certain whether this was planned or a technical glitch, but they should keep it in if it was a malfunction because it was hilarious.
The writing veers between the absurd and the ridiculous but I felt needed further polish to be as funny as it could be, some jokes via the Zoom medium simply didn't land. The situation was not helped by some slow jump cuts between players and unbalanced microphones which meant some voices were loud and clear whilst others were whispers.
The show improved as it progressed and the technical hitches diminished, but due to poor cutting I felt the full pace of the show was never reached. There was one scene which captured a setting sun, it was wonderfully awful and funny and also quite charming in its naïve form - top marks for this vignette.
Someone wrote in the comments at the end of the show 'valiant effort' and indeed it was. On another day and with all the technical problems ironed out it might have earned another star.
Tickets (£5 Live or Free via Zoom)
August (9- 10) 20:50 9th / 14:00 10th