Image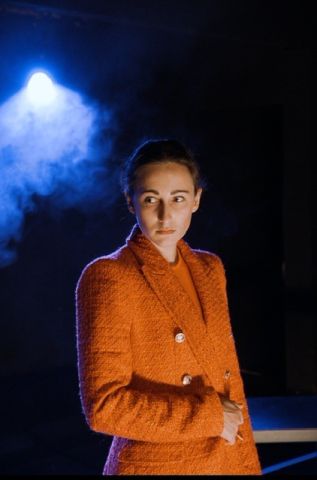 Production
Kristin Winters (writer, creator, director), Alexey Kochetkov, (composer of original music)
Sam Dash (Producer)

Performers
Kristin Winters (Ghislaine)
New York, June 28, 2022: Ghislaine Maxwell is sentenced to 20 years in prison for recruiting teenage girls for Jeffrey Epstein in what the judge called an horrific sex trafficking scheme between 1994 and 2004.  The British socialite is the daughter of Robert Maxwell, the billionaire media mogul who died in 2009 after he fell, (jumped or pushed?) off his yacht, Lady Ghislaine.
As actual news reports on the trial are played on a soundtrack, Ghislaine stands proudly in an elegant red dress and Chanel-styled jacket, and with a supercilious look stares at us -  the jury - as if totally in denial of any wrong doing. Stepping forward smiling sweetly, she asks politely, "would you like a drink, a cocktail?" reverting to her previous luxury life of leisure and house parties.   
In Henrik Ibsen's 1891 pioneering feminist play, Hedda Gabler, the anti-heroine also enjoyed a privileged childhood as the daughter of the aristocratic General Gabler, more her father's daughter than the new wife of George Tesman: 'Hedda is 29 years old, her face and figure show breeding and distinction, her steel-grey eyes express a cold, calm repose.'
Ghislaine/Gabler portrays the double portrait of these two scandalous women who share dark, dangerous personalities, their lives controlled by their fathers and other domineering men.  "Good women watch, not do" insisted the bullying Robert while Hedda is delighted to inherit the General's prized pistols.
The black box stage setting marked with a white square border represents Ghislaine's prison cell, as strident music like a film score depicts the slamming of doors. Now stripped down to T shirt and leggings, she becomes a lost, broken, defeated and desperate figure: 'Everyone wants someone to blame after Epstein died. He was nothing without me, I am paying for his mistakes." she quietly explains, constantly pleading her innocence, that she is a victim too.  With her soft, upper class English accent, it's even more shocking to hear her side of the story about how the girls came willingly, 'fools - pretty fools', whom she was just trying to help shape their destiny for a better future.  
With recorded extracts from Ibsen's play blending seamlessly with live action, the voices of Hedda and Tesman – "How could you do a thing like that?!" - echo around the theatre. Here too is an intelligent, unpredictable young woman who is not afraid to manipulate her husband and friends in the pursuit of her own personal ambitions and beliefs.
Ghislaine feels physically trapped in the isolated, claustrophobic space, scuttling like a frightened mouse across the floor, her nightmarish visions dramatised through slow, sensual choreographed movement, gestures of self harm and pained facial expression.  But this is just an act, wearing a mask to disguise her real self, a sophisticated lady of wealth and privilege, who was not coerced into perpetrating such a monstrous crime. 
Centre stage, from courtroom to prison cell, Kristin Winters is cool, charismatic and beautifully bewitching with a calculating art of persuasion.  Chillingly, thrillingly atmospheric, this is a spine-tingling, multi-layered, mesmerising performance with subtle emotional insight: Lady Ghislaine and Ms Gabler – two dramatic Ice Queens who broke free from social, feminine expectations to exert control and influence in a male dominated world. 
Showtimes:
5 – 27 August @ 1840. (not 14, 21)
Ticket prices:  £12 (£10)
Suitability: 12 +