Image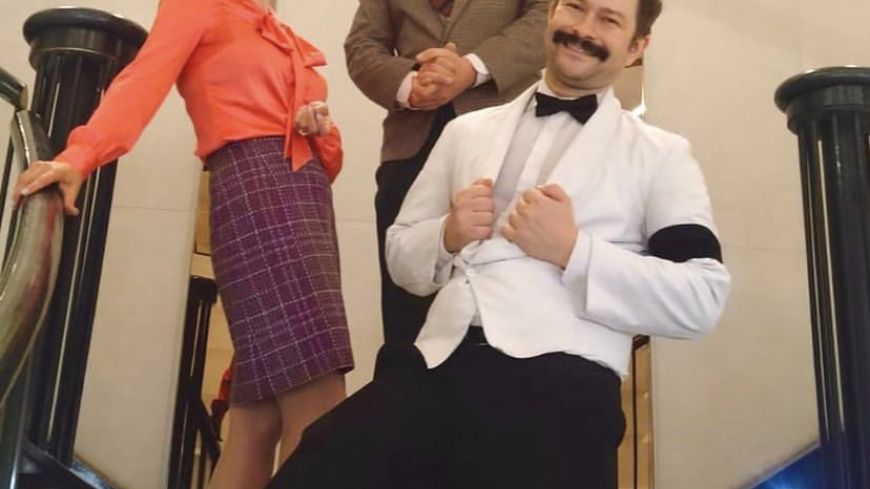 Company
Interactive Theatre International
Performers
David Tremaine (Basil), Rebecca Norris (Sybil), Simon Grujich (Manuel)
Faulty Towers The Dining Experience needs to come with a warning - there is a VERY good chance you will laugh so hard that your drink will come out of your nose onto the person across the table from you.
This interactive dining experience is "the world's most sought-after tribute to the BBC's Fawlty Towers" and immerses you into the world of the 1970s programme. 
Basil Fawlty, his wife, Sybil, and Manuel, the waiter, run into every sort of dilemma you could ever imagine as they attempt to keep the dinner service running as smoothly as possible. The slapstick comedy never gets old, and diners of all ages were wiping tears of laughter away all night long.
If you know the show, you'll be very familiar with the sort of antics they get up to; however, if you've never even heard of it. In that case, you'll still enjoy a nice meal — mine was a roasted red pepper and tomato soup, lemon chicken with mash and vegetables, and a coconut and chocolate tart with mango ice cream — and two hours of side-splitting comedy.
What's most exciting is that 70% of the show is improvised, meaning you can go again and again (and you definitely should) and never have the same experience twice. 
If I could make a suggestion, it would be great to have an option to indicate if people were or were not open to being participatory - even something small like a sticker or a token that had red for no and green for yes - so the shyer would-be attendees would feel they could safely just be an audience member.
Tickets here
Aug 5-28 (not Tuesdays) |13:30/19:30
Suitability: 0+