Image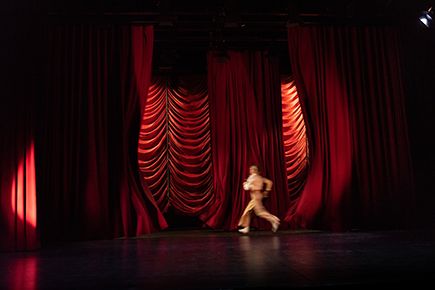 Production
Alexander Devriendt (director and text), Angelo Tijssens (text and video director), Charles Purcell (text), Pepijn Mesure (technician, scenography, sound, light), Koen De Wilde (technician), Babette Poncelet (scenography, sound, light), Thibault Annoot (intern: scenography, sound, light), Valerie Le Roy (costume), Leentje Kerremans (costume), Marie Peeters (production), Fien Vandermeersch (intern: production), Charlotte Nyota Bischop (tour planning), Nick Mattan (graphic design), Maxime Lahousse (video DOP), Sanne De Wilde (photography promotional image), Mirjam Devriendt (photography scenery), David Bauwens (general manager), Wim Smet (financial manager)

coproduction:
Perpodium (B)
Theatre Royal Plymouth (UK)
Kunstencentrum Vooruit (B)
Richard Jordan Productions (UK)

With the support of the Flemish Government and the City of Ghent.
This show was made possible with the support of the Tax Shelter measure from the Belgian Federal Government
Performers
Aaron J. Gordon, Bastiaan Vandendriessche, Charlotte De Bruyne, Eliza Stuyck, Sascha Bornkamp, Karolien De Bleser, Sachli Gholamalizad, Shôn Dale-Jones
"The suspense is terrible; I hope it will last," said Oscar Wilde (quoted famously by madcap character Willy Wonka). Truer words couldn't be spoken about Every Word Was Once An Animal, the meta masterpiece challenging you to figure it out, brought to the 2022 Edinburgh Fringe by brilliant and inventive, world-renowned Belgian theatre company Ontroerend Goed. 
If Hamlet's "the play's the thing" is true, what if we put a pin in the 'thing' and just focused on the 'play'? What if theatremaking was the 'thing' and the wrappings were the curtains and words and characters, the playing-pretend of it all? Like a gift wrapped within a gift wrapped within a gift to the power of 100, this piece is wrapped in myriad layers; in fact it is all layers, full stop. At its core, this offbeat onion of a show explores the process of trying to make sense of the world by creating. (Or am I trying to make sense of a show that eschews sense-making? See, meta!) Silence begets mystery; the more we try to reveal the less possibility hangs in the air. 
Surprising and silly, if purposely and delightfully confusing, misleading and inane, Every Word Was Once An Animal is more than a show-about-nothing (move over, Seinfeld), it could be a handwritten love letter to creators of recent years who made art that would go on to be cancelled or to never be seen. It jubilantly celebrates that there is still meaning in making even if the core of the work or the result gets lost, and, sometimes, there is no making sense of mayhem; maybe mayhem is the thing. 
 
Every Word Was Once An Animal tickets: here (£14 - £17)
Aug 6-9, 11-14, 16-21, 23-28 | 14:15
Suitability: 14+ (Guideline)