Image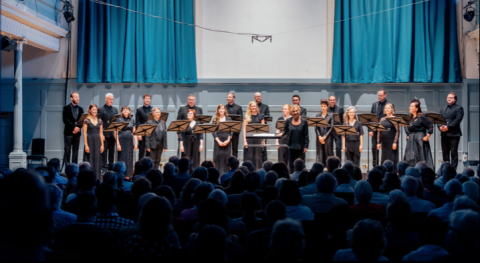 Production
Six Motets Op 79, Felix Mendelssohn; Mass for Double Choir, Frank Martin; Ancient Prairie, Eriks Esenvalds; Bring Us, O Lord God, William Harris; The Lark Ascending, Ralph Vaughan Williams (arranged Paul Drayton); Toil & Trouble, Cecile Ore; Slangpolska After Byss-Kalle, Byss-Kalie.

Performers
Sofi Jeannin (conductor), Laura Samuel (violin)
One of the fascinations was to watch the two choirs, each of eleven singers, move from station to station on the stage as the concert progressed - all the time conducted by Swedish-born Sofi Jeannin, who has been their Chief Conductor since 2018. Mostly a cappella, although later in the concert accompanied by the violin of Laura Samuel.
The sacred music of Mendelssohn's Six Motets put us in mind of Christmas, New Year's Day, Ascension Day, Passiontide, Advent and movingly Good Friday. And then came the delight of the concert - Frank Martin's very fine Mass for Double Choir. Some would say the combined choirs from two major cathedrals would have been better - but we heard a refined and beautifully clear set of church music that would very happily accompany a Mass in smaller surroundings. The Swiss composer was the son of a Calvinist minister from Geneva. He wrote the Kyrie, Gloria, Credo and Sanctus in 1922 and added the Agnus Dei four years later - but put the score away in a desk drawer. Never should a musician profit from his music, Calvin had declared and Martin obeyed. At the same time he had feared his Mass would be compared unfavourably to that of J S Bach. It remained in his desk drawer until 1965. Following on, Eriks Esenvalds' Ancient Prairie, part of a larger work, kept me on a spiritual high.
After the interval William Harris's double-choir anthem Bring Us, O Lord God was undeniably Anglican and followed on well from the earlier Mass. I wasn't so happy that the Paul Drayton arrangement of Vaughan William's The Lark Ascending with its wordless chorus was appropriate for this concert, although interesting. Likewise Cecile Ore's Toil & Trouble with its clips from Shakespeare was great fun for the singers. The morning ended with nonsense syllables and a tune from a Swedish folk dance by Byss-Kalle.
Event reviewed: Tuesday 9th August 2022 at 11am