Image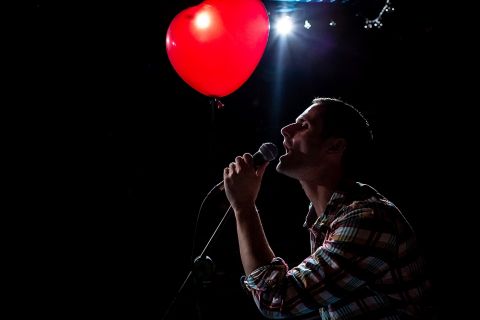 Company
Reboot Theatre Company
Production
Tim Fraser (writer), Nico Rao Pimparé (director), Michael Waller (producer).
Performers
Michael Waller
"Why must she be the one
That I have to love
So like Candy" - Elvis Costello and Paul McCartney.
Will never really understood the phrase "love at first sight". It's just words. Take Romeo and Juliet; how did they instantly know that they liked each other and would get on?
He thought it was BS, until he saw her, Candy. She is on stage, long flowing red dress, blond hair, a proper woman, properly elegant.  He may be bewitched but he is also bewildered by the fact that Candy is his mate since schooldays, Billy Glover.
He knows rationally that it's Billy, but there is something about Candy, inviting and like coming home. She both is and isn't Billy but when she leaves the stage she dies, and Billy is born from her ashes.
Will is a typical Northern bloke, partial to a few pints with the lads, but when he observes Billy on a night out, he sees Candy dressed as a bloke. Candy is an itch best not to scratch but he pines for her, and soon she is haunting his dreams.
His work suffers as he becomes distracted and a heart-to-heart with his boss Deborah teaches him some things about love.  Not so illuminating are the rom-com movies that his Mum and great-aunt watch endlessly but he does wonder about holding up a sign, telling the truth in the style of "Love Actually".   
But he doesn't know truly what Candy is, whether it is all an act, and he is a joke. The freedom, the escapism that Billy has found isn't available to him and in many ways he has never been happy.
The things he discovers about love and his fear of ending up alone will drive him to attempt to find if one can know anyone or just what we see and whether it's worth taking a chance to gain the unattainable.
The play is an engaging look at love and heartbreak, but also at identity and mental health.  Michael Waller approaches the massively confused and conflicted Will sensitively, with an almost confessional tone while the writing is dryly witty. A little more pathos would candy it up.
Show Times: 5 to 29 (not 15) August 2022 at 3.50pm.
Tickets: £7 to £11 (£10).
Suitability: 14+. Contains strong language / swearing.