Image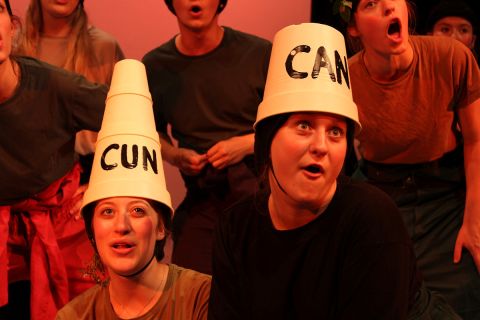 Production
Richard Fredman (writer / director), Phyllida Hickish (director/designer), Ed Frearson (lighting/sound), Lucy Wallace (producer).
Performers
Anastasia Borakis, Louis Bristow, Ella Craddock, Jake Dann, Bethan Green, Bea Henderson, Betsy Learmond, Amelia Perry, Natalie Sheardown, Thomas Stapleton, Hannah Turpie.
We are met by some very excited communal farmers. These, however, are no common or garden horticulturists, as they have an epic backstory to tell.
They swap flowerpot hats to depict the main characters, each keen to play the polite hero Candide as they set off on his fantastical, fast-moving adventures from the picaresque Enlightenment novel by Voltaire.  And there is a lot to pack in; from Candide's love of the baron's daughter Cunégonde, which results in his expulsion from the castle and his trials and tribulations with the Bulgar army, to trips to Holland and Portugal, South America, Italy and Turkey with shipwrecks, earthquakes, and brushes with the Inquisition along the way.
There will be rape, murder, a bit of attempted auto-da-fé, hangings, disembowelments, a fair few floggings and some jewel-laden sheep. Not to mention the regular appearance of his old tutor Pangloss, who teaches him about cause and effect and that this world is "the best of all possible worlds." This is despite him having contracted syphilis and lost some body parts. Speaking of which, Cunégonde loses a buttock, but that's another part of the story.
It's mainly told by all the cast at once, tumbling over each other to form scenes from veg crates and sticks, all eager to play Candide; well perhaps apart from the floggings and the seasickness.
It's colourful and dotted with live music, including a good soulful number and the catchy "best of all worlds" theme.
In the best of all possible worlds, it would cultivate more of the company's ability to capture both the surreal and the epic, saga-like tale. A section with a boat trip to discover treasure in El Dorado is at its most nuanced and inventive but the play mainly bounds along in an engaging, satirical and enthusiastic manner.
Not groundbreaking, but some audience members were singing the theme as they left, and you can't say better than that.
Show Times: 6, 8-13 August 2022 at 12.35pm.
Tickets £10 (£8) (£32F).
Suitability: 12+.