Image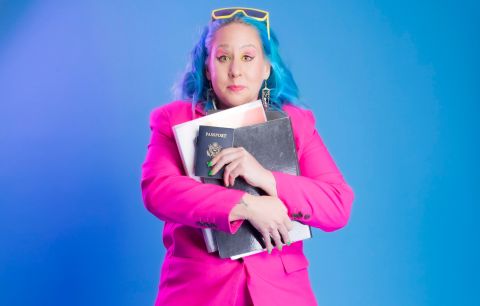 Company
Abigoliah Schamaun
Performers
Abigoliah Schamaun
In one glittering, high-energy hour, American comic Abigoliah Schamaun takes you through the miserable rollercoaster that is her UK partner visa application experience. Along the way, she delivers the best USA gags you'll hear at this Fringe, taking the piss out of Brits and her fellow Americans alike, exploring mixed nationality relationship quirks and differences (bound to happen when one of you is from Ohio and the other from Cornwall), neurodivergency and bisexuality, to name a few.
Though a belly laugh-inducing comedy through-and-through, Schamaun conveys the upsetting reality of the UK immigration bureaucracy behind Legally Cheeky; she carries the audience along through every devastating, infuriating and ultimately uplifting event on her journey.
Punchy and confident, Abigoliah holds the energy of the room with deftness, even if the links between bits trail off now and then (she's right; it IS a symptom of ADHD) - she never loses her audience and is as fun on script as she is off. 
Profiting off a month of performing a near exposé of the Home Office at the Edinburgh Fringe while having recently been denied a visa and gone toe-to-toe with Priti Patel's henchmen is pretty darn brave - cheeky, indeed, in the best way. 
With outright hysterical Legally Cheeky, let's-get-loud, loveable Schamaun ensures that immigrants will feel SEEN and that Brits will learn what it is like to compile your life into a 250-page document, hand it to the government and plead to keep the life you've built and the future you deserve to plan.
Abigoliah Schamaun: Legally Cheeky
 Aug 6-7, 9-14, 16-21, 23-28
18:20
Tickets here
14+ (Restriction)
photo credit Tom Watts