Image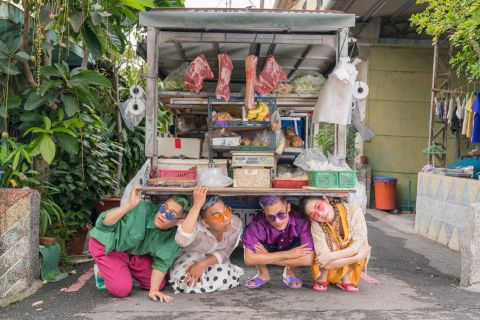 Company
TJIMUR DANCE THEATRE
Production
(Founder and Artistic Director) Ljuzem Madiljin (Dance Director and Choreographer) Baru Madiljin (Custom Designer) Baru Madiljin (Technical Coordinator and Lighting Designer) I-Shun Lee (Portrait Photographer) Chang-Chih Chen (Main Visual Designer) Wen-De Chen (Company Manager) Shu-Ting Chiu (International Affairs Coordinator) Pei-Yi Ke
Performers
Ching-Hao Yang, Ljaucu Tapurakac, Tzu-En Meng, Sheng-Hsiang Chiang
Visually this is an engaging video and dance piece with scenes being shot in the studio and out on location. The costumes and setting are rich and vibrant and make a quick impact. There is a pace and speed which quickly gathers the audience up and pulls them into this vibrant world of humour and pathos.
The music which accompanies this dance changes from French torch singers such as Edith Piaf's famous love songs Mon Amour and La Vie en Rose through to toe tapping vigour Hervé Rigaud. Musically no stone is left unturned to pull at the heart strings or bring a smile to the lips.
The dancers, three men and a woman show a kaleidoscope of ever-changing relationships of dominance, support, trust, sadness, and joy. This fast and turbulent affair between the four of them is a constant thread throughout the whole piece. The dance expresses poignancy when you would least expect it and the cutting between studio and location creates an unexpected dynamism and there are some beautiful vignettes here.
There is a depth and richness to this piece and a novel and entertaining approach to putting this in an online format. Sometimes a performance is simply filmed in the dance studio, here the opportunity has been taken to move beyond this and the production is all the better for it. This is a thoroughly engaging piece of theatre which makes the 30 minutes of the performance fly by.
Show times:
Summerhall (Online Performance ZOOTV)
Ticket prices: £8