Image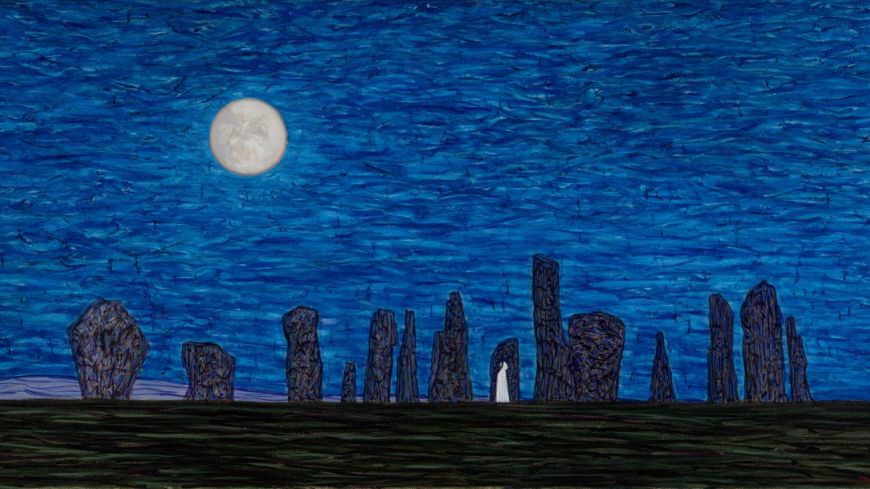 Performers
Davy Macdonald, (artist)
Davy Macdonald is a remarkable, original artist specialising in an eclectic range of genres: cultural landscapes, portraiture, conceptual and abstract paintings, yet all with an underlying narrative.
Scottish history and heritage has long been a passion for Macdonald and this new exhibition, "Stories in the Stone" is inspired by the ancient standing stones of Callanish, (in Gaelic, Calanais), on the Isle of Lewis. Constructed 5000 years ago, before the Great Pyramids of Giza and 2000 years before Stonehenge, Calanais is a ritual site of great power and spirituality. The extraordinary craftsmen had the astronomical knowledge to highlight the position of the lunar standstill which only occurs here every eighteen and a half years.  It's said that on this night, the moon skims very low over the southern hills and seems to dance along the stones like a great god visiting the earth.
A stunning panoramic scene, Among the Stones, illustrates the Neolithic stone circle beneath the light of a full moon, casting a glow on the haunting image of a High Priestess dressed in white gown standing like a stone statue herself.  (see image above).
She is the Hyperborean Priestess, depicted close up in a large figurative painting. In Greek mythology, the Hyperboreans were a mythical people who lived in the far northern part of the known world. The Hebridean islands, perhaps!
For those who are familiar with the Presbyterian Church of Scotland, Council of the Elders shows a group of dark grey stones as if conversing with each other,  a humorous "caricature" like a gathering of a minister and committee members.  
As well as representational landscapes, here too are bold colourful abstract paintings following the theme of ancient mythology and symbolism such as Sigils. Rather like Chinese calligraphy, sigils are characters with no exact meaning or language - unconscious marks, symbols used in magic and the pictorial signature of a deity or spirit.
Most impressive is Labyrinth, a vibrant composition in red, blue and yellow, crafted like a painterly experiment. First Davy Macdonald loosely sketched a skeletal pattern of lines and geometric shapes, then applied splashes and streaks of colour using with both right and left hands simultaneously with willow charcoal sticks, brushes or palette knives.  A labyrinth is defined as an irregular network of passages, a maze in which it's difficult to find one's way.  The haphazard pattern here is like an optical illusion, expressing a freedom of movement and vivacity. Reminiscent of the expressionist action paintings by de Kooning, this is artwork created with two hands, similar to a pianist or drummer, capturing a similar sense of energy and rhythm.  
To complement this new work, there's also a selection of paintings from his various Scottish Heritage projects.  The Herring Lassies, Newhaven fisherwomen with bandaged fingers from hard work shucking oysters, gutting and salting the fish, and atmospheric images of Harris weavers spinning the wool and singing Gaelic songs in the sunshine.
Contemporary figurative scenes too, such as an evocative image of a young girl in a tartan coat, set in the New Town of Edinburgh. The red-cloaked University students in procession around the harbour in St. Andrews, are like the saffron-robed Monks walking in meditative silence at Angkor Wat.
Having viewed Davy Macdonald's artwork at the Dundas Street Gallery each year since 2009, this inspiring exhibition showcases his continually evolving, imaginative creative style: Scottish narrative landscapes, soulful romantic portraits and abstract expressionist designs, bursting with colour, pattern and musical rhythm.
A fine collection of original paintings as well as Limited Edition Prints on paper and canvas.
Show times:
Saturday 21 – Monday 30 August, 2021: 10am – 6pm daily
Free entry
https://tickets.edfringe.com/whats-on/stories-in-the-stone