Image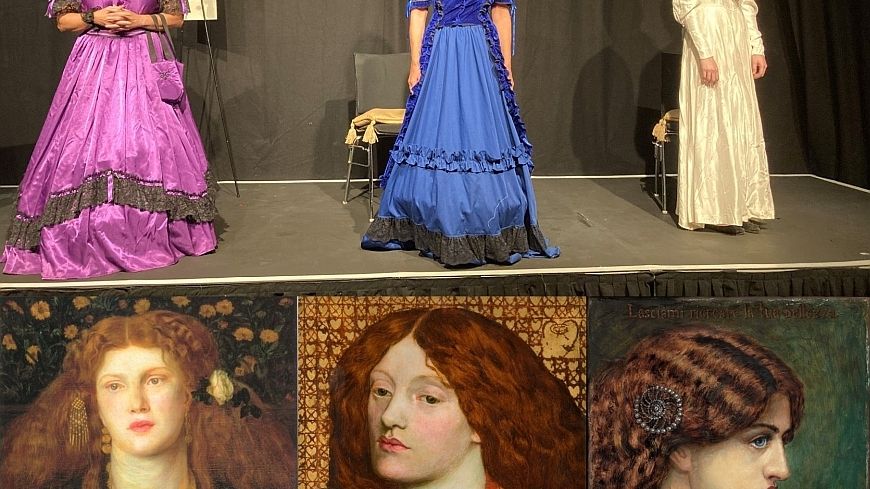 Company
Lemon Squeeze Productions
Production
Joan Greening (Writer and Director)
Performers
Julia Munrow (Fanny Cornforth), Emma Hopkins (Lizzie Siddal), Sarah Archer (Jane Morris)
The celebrated, pioneering painter and poet, Dante Gabriel Rossetti led a complex promiscuous private life, all in the pursuit of great art. Three women - Lizzie, his wife, Fanny, a prostitute and Jane, a secret admirer – were his artistic models and lovers.
As founder of the Pre-Raphaelite Brotherhood, Rossetti's stylised portraits highlighted an iconic look: angular facial features, straight nose, rose-pink cupid bow lips and a flourish of thick, wavy hair.  
The stage setting is Dante's studio, simply furnished with a couple of chairs and the artist's easel, the action taking place between 1856 and 1882.  With the crackling sound of an old recording of the Florrie Forde Music Hall song, 'Hold your Hand out, you Naughty Boy', the women, beautifully dressed in elegant gowns, stand like statues in a tableau.
The narrative is related through tête-à-tête conversations as each woman reveals her personal relationship with the artist amidst their bitter, competitive rivalry.
Lizzie Siddal was akin to a teenage supermodel of the era, slender, very tall with copper red hair, who captivated Millais, famously portrayed in his painting, Ophelia, (1851), and then aged just 20, Rossetti fell madly in love with her.  Dressed in a shimmering white dress, she first appears as a ghostly figure. "I am sorry that I was dead when he painted my last portrait … he killed me slowly by degrees". Not literally. She took her own life unable to bear his constant infidelity and infatuation with his new muse, Fanny.
After this prologue, we flash back to when Lizzie is betrothed to Rossetti (now engaged for seven years), and perturbed to meet a strange woman in the studio who has come to be painted. "He picked me up in Vauxhall Gardens."  "But prostitutes go there ..." " You are quick!," is Fanny's witty retort.
Next to arrive to see Lizzie is Jane Morris who is married to William Morris, the textile designer and artist.  She is concerned that Lizzie's social reputation is tarnished by her unmarried status and suggests that she must push Rossetti to the altar. But like a calculating cougar, Jane is devious with an ulterior motive up her fuchsia silk sleeve.
As a rather fragile young woman, Lizzie suffers constant ill health and takes large doses of Laudanum to calm her nerves, or as the worldly wise Fanny describes it, 'poppy juice.' A sensitive, emotional soul, Lizzie writes poetry on darkly romantic themes of lost or unattainable love.
'O silent wood, I enter thee, With a heart so full of misery, For all the voices from the trees
And the ferns that cling about my knees.'
Rossetti mythologized his models, depicting women as goddesses to express an ethereal beauty.  He referred to Lizzie as 'Beatrice to his Dante', (his namesake, the Italian poet) and his final portrait of her as Beata Beatrix was his heart-breaking memorial after her tragic death. (In a remarkable coincidence, Emma Hopkins has an uncanny, close resemblance to Princess Beatrice).
The story unfolds through a series of short, sharp, dramatic duets, while the third woman sits silently at the side, but it's all rather static and flows along on an even tone – more period music would add atmosphere between scenes.  As the play covers twenty five years, a few more dates in the dialogue would clarify the time frame. While the poster and programme depict three glamorous paintings of the models, there are no sketches, paint palette and brushes to evoke the studio setting and Rossetti's exemplary art.
The contrasting personalities of each strong minded, determined woman are colourfully 'painted' from the tough talking Fanny, sweet natured Lizzie to the imperious Jane; some delightful moments of humour peppers their conversations with catty comments as they fight their corner.  This is a most inspiring, insightful, theatrical portrait of the three muses who waltz around the dashing but dastardly Dante Gabriel Rossetti, seeking his admiration, love and, hopefully, a hand in marriage.
Show times:
16th – 28th August @ 12.15 p.m.
Ticket prices: £8.00 /£6.00
https://tickets.edfringe.com/whats-on/rossetti-s-women