Image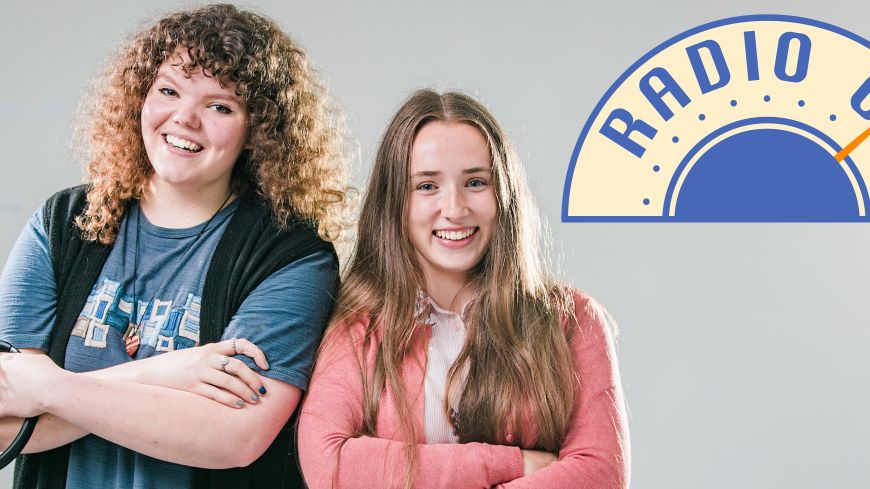 Company
The Counterminers
Production
Hollie Avery (Creative Director, Writer), Jamie Cushing (Costume Manager,) Lewis Forman (Creative Producer, Editor), Zoë Robertson (Writer), Holly Sargent (Writer), Mallory Smith, (Sound Manager), Emer Williams (Assistant Producer, Lead Editor), Lois Zonnenberg (Editor, Lights and Stage Manager). The show was co-directed by all the actors.
Performers
Hollie Avery, (Ash), Jamie Cushing, (Doug) Tom Creswell, (Filthy Phil), Leonie Findlay (Swing), Lewis Forman (Hugh), Lizzie Freestone, (Swing), Poppy Goad, (Frankie), Kiara Mason (Amy), Zoë Robertson (Swing), Emer Williams (Pippa).
With a blast of the gay anthem, Shania Twain's "Man, I feel like a Woman," the DJs on Radio 69 are keen to entertain and inform with a stream of pop music, news, travel and weather. They promise "no talking – enjoy the experience of local radio."
The authentic studio is set up with several microphones, a tangle of wires and pile of scripts on the desk with a large red neon sign, On Air.  Ash and Amy receive song requests from listeners such as for someone who has had an accident with a lawnmower wearing flipflops.
Radio 69 is based in the village of (what sounds like) Froxburgh in the Scottish Borders.  With laid back, hippy vibe, Pippa is the rather zany weather girl who tests the dryness of the skin on her elbow to predict the forecast and also observes the cows in the field to indicate a heatwave. But good news for hayfever sufferers with a new Beesneeze product.  Barging into the studio, Doug proceeds to sanitise, dust and mop everything in sight with obsessive glee.
When the girls engage in chit chat and gossip while still broadcasting on air, Hugh Jego, the owner of Radio 69 announces that the staff have a week to make serious changes or the station will close.  While he inherited it from his father, he is now far more interested in running his IPA brewery.
But the small team is desperate to keep their jobs and decide that a celebrity interview could turn things around.  Doug claims he could arrange for Nicola Sturgeon to be a star guest – "I clean her house twice a week – and suggested the power suits!"  
Described as "an irreverent queer British comedy," not one, but two lesbian relationships weave an inconsequential thread through the narrative: the tentative romance between Ash and Amy and the less than serious relationship between Pippa and Frankie.  The plan to try and save the Radio station centres around a drag act and playing the world premiere of a new song by Filthy Phil who flies in from Spain for the occasion.
This crazy caper of a plotline, however, lacks all the essentials - realistic characterisation, dramatic bite, sharp humour and quick wit - for a successful comedy. But as a silly pantomimic sketch, it's performed with enthusiastic, over the top theatricality by this young, new Edinburgh company.
Show Times:
16 – 21 August @ 19:05
Ticket prices: £7 (£6)
Suitability: 16+
https://tickets.edfringe.com/whats-on/radio-69