Image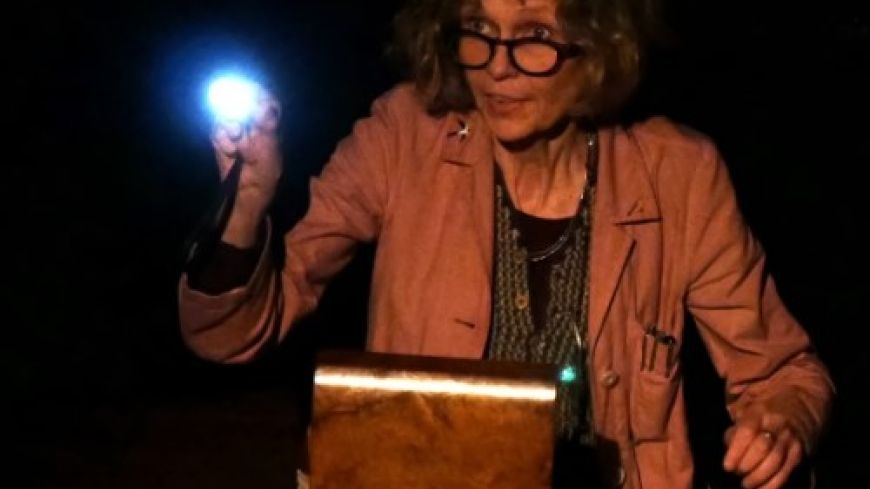 Company
Maria MacDonell, Georgina MacDonell Finlayson, Alan Finlayson
Production
Maria MacDonell (Writer, Director); Alan Finlayson (Director); Ian Cameron (Consultant Director); Molly MacDonell Finlayson (Props & Costume); Erin Rooney (Producer)
Performers
Maria MacDonell (Curator), Georgina MacDonell Finlayson (Musician), Alan Finlayson (Man)
A wee gem of a show, Miss Lindsay's Secret is the true story of a Scottish seamstress, Miss Wilhelmina 'Minnie' Lindsay. who over a period of 12 years, from her home in Glenesk in Angus, exchanged letters with her male friend, Alexander 'Sandy' Middleton, who had followed the pull of the goldrush to the Canadian Klondike. The letters were discovered in a sewing box in the Glenesk Museum and so a story unfolded.
The three-strong performers – a musician and two actors – bring alive the story of communication between Miss Lindsay and Sandy. From the curator who holds and maintains history of the area, to the lilting Scots tunes by the musician, to the wonderful Scots brogue reading of Sandy's letters, the trio give life to an old-fashioned romance. Letters took time to travel between Canada and Scotland, but the words written over a hundred years ago still vibrate with the energy of the lives behind the letters. With changing communication styles, this type of hidden story may be less likely to be discovered in the future, and what a loss those untold stories would be.
What endears this particular production is not only the engaging performances, but also the truly Scottish feel of it. A lost piece of Scottish history, with a reminder of the joy that comes from hearing a new Scottish story that is both familiar and unknown at the same time. Picturing a specific time in history before the outbreak of WWI, it harks back to a simpler time, but also to those human desires for love and connection, just as important now as it was a hundred years ago. A delight to watch that leaves you with a warm glow for some time after.
Show Time: 18,22,23,25,29,30 August @ 16:00
Ticket Prices: £10-£12