Image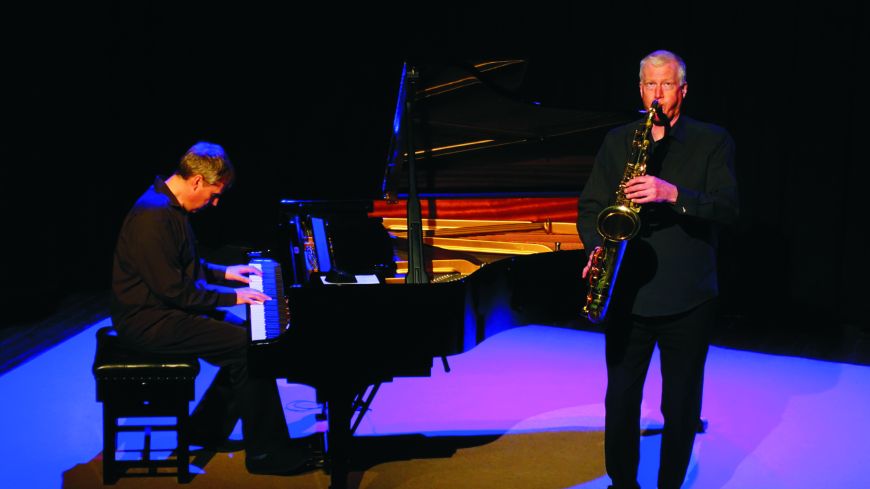 Performers
Ian Millar (Saxophone), Dominic Spencer (Piano)
The Tap Bar at The Novotel, provides the ideal cabaret setting, and with a bottle of ice-cold wine sorted, time to settle down to listen to the cool sounds of Ian Millar on saxophone and Dominic Spencer at the piano.
Their daily changing repertoire features a mix of Standard jazz tunes and original compositions, kicking off on this show with Weaver of Dreams (1951) by Victor Young. This is a well crafted, seamless blend of rich, deep tones on sax with the melody carried through in the keyboard refrain, before shifting gear into a foot-tapping beat.
Born in Chicago 1900, Victor Young was a multi-talented musician: radio shows, Bing Crosby's musical director, and formed Victor Young and his Orchestra, composing many hit songs and numerous film scores.
Young's original romantic ballad, Beautiful Love, is given a free-wheeling version with an up-tempo swing, the last lingering woodwind notes incredibly low and resonant.  Stella by Starlight by contrast is a slow, sultry, laid-back number with improvised rhythm.
"Anybody can play a composition and use far-out chords and make it sound wrong. It's making it sound right that's not easy" – Thelonious Monk
Thelonious Monk is regarded as a legendary, genius pianist who experimented with R&B, bebop and hard bop with raciness and humour.  Straight, No Chaser, (1966) is given a fresh, invigorating rendition by Millar and Spencer with a syncopated beat.  
To give the duo a much-needed pause, Dominic tells a few stories about their long term musical partnership, performing together at the Fringe and on tour for many years. They travel in a Campervan adapted from a Yorkshire ambulance visiting village halls, churches and various Festivals across the UK.
A few original compositions by Ian Millar too: Written for Dominic's daughter, when she was just four years old, Gemma is a charming, lyrical duet, and High Five!  is also a gentle piece - happy, cheerful, celebratory.  Like a musical seascape, Caithness Song, reflects the wild, barren North East coastline with the traditional lilt of a Scottish folk tune.  As if illustrating the early sunrise, Morning Dew starts with slow, tranquil piano chords before the deep hum of the tenor sax gradually opens up with a mellow tempo.
And back to the classics again with If I Should Lose You by Ralph Ranger, a charming melodic and soulful duet.   Fascinating to know that this had been a rather forgettable track in 'Rose of the Rancho' a 1935 romantic movie until given a masterly makeover by Charlie Parker to become an instrumental jazz standard.
And then to finish the set, they embrace the sassy, salsa dance rhythm of Salvador by Sonny Rollins which really showcases their polished playfulness and lively improvisation.
'Sonny Rollins is jazz's greatest living improviser, able to imbue his solos with wry humor, surprise, brilliant logical form and profound emotion'. New York Times Magazine
Perhaps the programme could have included a couple of the more familiar vintage classics from The American Songbook - My Foolish Heart or When I Fall in Love, (Victor Young), My Funny Valentine, (Richard Rodgers), or I've Got You Under My Skin (Cole Porter), Summertime (Gershwin). Just a suggestion.!
Despite the fact that this is a bright sunny day, Millar and Spencer create the moody ambience of a jazz nightclub. With smooth harmonies, every note and chord in synchronised rhythm, this is a contemporary dynamic duo with the classic Big Band sound.
Show times:
6 – 30 August @ 12:30
Ticket Prices: £10
Fully licenced bar and food menu.
https://tickets.edfringe.com/whats-on/jazz-at-lunchtime