Image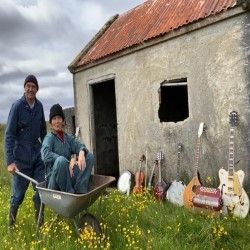 Company
Elsa Jean McTaggart
Production
Elsa Jean McTaggart (multi-instrumentalist, composer), Gary Lister (keyboards, accordion, production management)
Performers
Elsa Jean McTaggart, Gary Lister
Band manager, musical counterpart and husband Gary Lister wheels his wife, multi-instrumentalist Elsa McTaggart into the space and onto the stage via their weathered wheelbarrow, where she will lead a delightful morning of stories and original songs about how music, quite literally, can make a home.
Married duo Elsa and Gary had been playing the winter season in Gran Canaria when COVID hit, forcing them to halt their tour and return to their only permanent residence, a "barely glampable" cottage on the Isle of Lewis. They had planned to take their time in transforming the diamond-in-the-rough abode, but the pandemic forced them into boiler suits, beanies and quite a bit of mud, actually, to make it liveable. 21 songs composed in the span of 3 months, sponsored by patrons from around the world, funded their renovation, and When the World Stood Still tells that tuneful story.
Through fiddle, banjo, bouzouki, mandolin, penny whistle and accordion, traditional music troubadour Elsa McTaggart, with Gary Lister as keyboard and accordion support, performs numbers that range from the playful to the poignant. Compositions came to Elsa through requests from her patrons, inspirations that stem from stories of an Alabama lass whose grandmother calls her the "Sunshine Girl", of a ginger-haired daughter learning to play the violin, of sister who has passed on but lives forever in heart, of a handfasting for a couple whose nuptials have been delayed by the virus.
Amongst snippets of sunshine, nights outside sitting round the fire and moments lounging in the wheelbarrow in between building works, McTaggart composed across her many instruments, bringing the world together during lockdown in a small yet significant way, while she and Gary built a home, literally and figuratively, around this musical journey resulting in a new album, accompanying book and film. This performance is billed as a "Celtic fusion of Hebridean melody celebrating life, sorrow, uncertainty, joy and laughter," and it delivers on that promise; it is a tonic for those that yearned for and cherished Scotland during this time of isolation.
Elsa McTaggart presents When the World Stood Still runs from 8-28 Aug at 10:50 in the airy Garden Theatre at theSpace @ Symposium (Venue 43)
Suitability is listed 3+, but there was a cheerful newborn there on this occasion who enjoyed the whole thing, so feel free to take your babies (they don't require a ticket!)
COVID guidelines: this outdoor venue is arranged in socially distanced groups of up to 4. If you require more than 4 tickets, please add up to 4 tickets to your basket at a time.