Image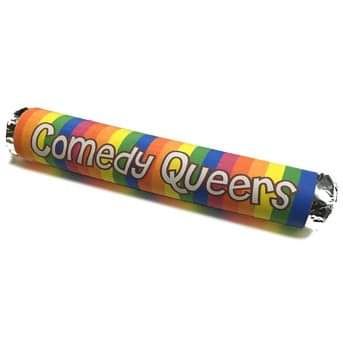 Performers
Dan Tiernan (MC), Ruth Hunter, Natalie Bryce, Roisin Cared, Chris Weir
An hour of 'queer comedy', introduced and compered by Dan Tiernan. This first show of the road began with some audience participation, and while it sometimes lacked the required spontaneity and flow, Dan thankfully landed on a person called Dickie…
Ruth Hunter, first on, told us about how she spent lockdown, following her move from Dublin to Glasgow during Covid. Ruth's performance was warm, funny and relatable. Ruminating on the parallels of sectarian violence, googling mental health issues she didn't have, and reflecting on being a pansexual millennial – this was a strong act to start with.
The hilarious perils of mothers drifting into the screens of Zoom calls opened our time with Natalie Bryce. Dating during lockdown also posed it problems, as well as having to dress as a Peppa Pig mascot for work. The act flowed well and with good pace, and concluded with whether it was all that wise to call female heroes 'heroines'!
Although it lost its footing a couple of times, the third performance, from Roisin Cared, had some wonderfully funny moments. Also from Glasgow, Rosin debated whether it was best referred to as the 'friendly city' or the 'stabby city'…or both at the same time! Socially distanced dating, and friends with benefits (PIP, Universal Credit, Housing benefit!) were also under her comic scrutiny. The speed of delivery did sometimes make the act a little difficult to keep up with.
Chris Weir's gentle but wicked humour endeared the audience to finish. Here we were treated to more of a succession of individual one-liners – and most landed well. This was a strong performance to conclude.
Making some allowances for this being the opening night, this was an uplifting show, though perhaps a little thin on really memorable lines.
The performance finished at 7.00pm.
Comedy Queers, Thursday 19th August, 6.00pm, Laughing Horse @ The Counting House
19 – 29 August: Pay What You Can in advance to guarantee entry or turn up at the venue for free, with the option of donating at the end of the show