Image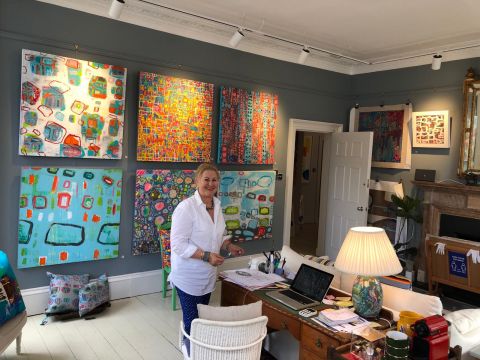 Production
Julia Krone: artist, painter, print maker, textile design, collage.
"I try to apply colors like words that shape poems, like notes that shape music.  For me, a picture must dazzle like the beauty of a woman or a poem. It must have radiance; what I am seeking is a motionless movement, the eloquence of silence " Joan Miro
After such a strange and surreal year, we all need a dazzling dash of colour in our lives to lift the spirits, Julia Krone exudes free-flowing energy and spontaneity in her vibrant artwork composed with delightful, decorative vision.
Originally from South Africa, she enjoyed a successful career in showbusiness and cultural events, performing as a jazz singer, before moving to the UK in 2007 and studied at the Edinburgh College of Art. Julia now specialises in painting, print-making, textile design and collage at her Georgian home-studio-gallery in the New Town.
Julia Krone's 'Dream Catcher' collection was selected to be shown at the B gallery in Paris in December 2020, to offer a sense of hope after lockdown, and seen as comparable to the iconic Waterlily paintings by Monet.
On view at this exhibition, this series features a limited edition Fine Art Print, Dream Catcher 1, a finely crafted, kaleidoscopic pattern, combining pointillism dots, zigzag lines and meandering rows of flagstones, like taking a walk through a garden of flowers.  A dreamlike view through a window suggesting a welcome escape from the harsh realities of life.  (This evocative image was also used to promote Nelson Mandela Freedom Day at the Turbine Art Fair in Johannesburg last year).
Around the walls of the gallery is a distinctive range of original mixed media paintings and canvas prints in a bold choice of colour and design. Another series is Purple Haze,  a glorious burst of fireworks, sparklers and Catherine wheels in rose pink, coral, azur and kiwi green – a joyful expression with a real sense of humour.
In cool contrast, Clarity V11 focusses on the simplicity of shape, yellow and icy blue pebbles on a backdrop of purple in a pure, cool abstract reminiscent of the masterly artwork of Victor Pasmore. Likewise in Town & Country V111, a mesmerising design with a mishmash of circles and blocks with vivacious movement.
Julia often depicts the world of nature in an abstracted form such as the translucent fluidity of water and attractive floral patterns of Sea Garden.
The collection entitled Nice was inspired by a visit to the Matisse Museum in the South of France, creative patterns of overlaid strips in pastel shades like a collage of fabric. These dynamic images in particular would be fabulous as a cushion cover and other interior design pieces.
This fresh, imaginative showcase of artwork radiates such energy through colour and dancing shapes as well as quiet, peaceful reflection. Akin to Miro's philosophy, the underlying message depicts the human emotion, spirituality and a zest for life.
Show times:
Number One Clarence Street, Edinburgh, Venue 422
6 – 31 August, 2021
Mon-Fri: 13:00 – 19:00. Sat-Sun: 10:00-19:00, closed Wednesday
Free entry.
https://tickets.edfringe.com/whats-on/colour
More information and to view artwork