Image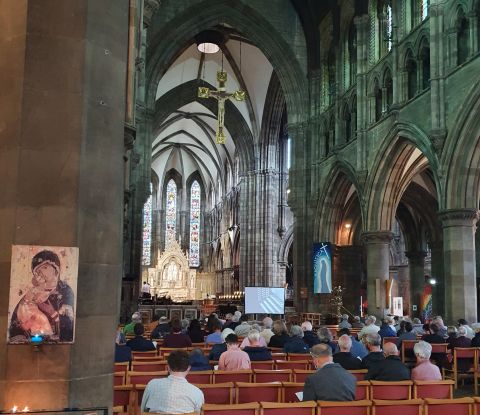 Company
St Mary's Cathedral
Production
Toccata & Fugue (Andrew Ager); Pastorale (Roger-Ducasse); Symphonie no.6 in G minor (C. M. Widor); Improvisee (Marshall)
Performers
Wayne Marshall (organist)
Removed for restoration in the autumn of 2019, the famous Father Willis organ was heard for the first time again in this sparkling recital.
Wayne Marshall, anyway here in Edinburgh for the International Festival, first encountered the cathedral organ when on a school trip in his teens. Now an internationally acclaimed conductor, pianist and organist, we were treated to over an hour of exhilarating music.
Introduced by the Provost John Conway, the concert very much had a celebratory and homecoming feel. In addition to thanks expressed to all the financial contributors, it was particularly apposite that technicians from Harrisons – the organ builders who had undertaken the restoration – were in attendance to hear the performance. While to the casual observer little might seem to have changed, this betrays the extensive work that has gone on inside the instrument. Nonetheless, we could instantly discern the improvement, both in the brightness of the sound (with decades of dirt having been cleaned from the pipes), and also the lack of escaping wind noise with the organ on while not being played.
Before playing the pieces in the programme, Marshall took us on a tour of the organ to give us exposure to its many rich sounds, across all its 4 manuals and pedals. This did, however, eventually cause the length of the concert to considerably overrun. The Ager work, with its tricky compound rhythms and shifting meters, was then a grand opening – Marshall told us he was drawn to its French flavour and 'jazzy fruits'. The following 'Pastorale' exploited a huge range of the organ's tonal colours, going through all sorts of styles, though with a beautifully romantic feel. Continuing the orchestral style, Widor's 'Symphonie' allowed us to see very aspect of the organ displayed, and it was mesmerising to witness Marshall's mastery of the work's complexity. There were plenty of spine-tingling moments!
World-renowned for his musicianship and versatility – on both podium and keyboard – Marshall is also rightly heralded as a mastermind and genius for his improvisations; the final piece was indeed a resounding climax to a spectacular performance.
The recital finished at 6.25pm.
Cathedral Organ Restoration Celebrity Recital, Sunday 15th August, 5.00pm, St Mary's Cathedral