Image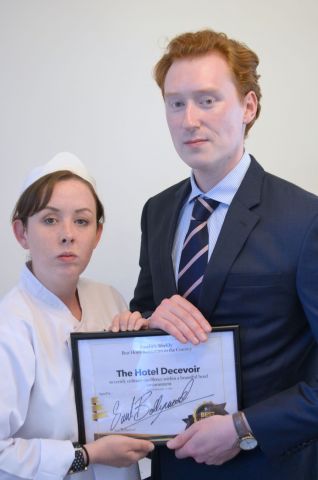 Company
Chalkhill Theatre Limited
Production
Kimberley Taylor (Writer and Director), David Whelan (co-director), Angus Odling (Producer), Grace Knowles (Technical director).
Performers
Jasper Cattell (Mr. Cartwright), Bethany Williams-Potter (Chef Sue Walker), Kate Marks (Arabella), Christian Brunskill (Charlie), Mollie Loughlin (Roxanne), Georgette Orford (Sugar), Beth Hall (Lillian), Ben Southgate (Jim), Joe Lloyd-Perks, (Sam), Sophie Callery ( Cherry), Esther Morris (Tilly), Jessica Tait (Blake/John Smith), Olaf Summers, (Evan), Aaron Devine (George), Maisie Granger (Linda).
The hotel is the ideal setting for crime thrillers such as 'Evil Under the Sun' by Agatha Christie or the comic movie, 'The Best Exotic Marigold Hotel,' where guests are unwittingly thrown together with dramatic consequences.
At the Hotel Decevoir (Hotel Deception!), Mr Cartwright, the bumptious and bossy manager, is as proud as a peacock, polishing his certificate for the 'Best Hotel Restaurant.'However, Chef Sue Walker claims that due to her culinary expertise, the award should be displayed in the restaurant.
Meanwhile, the first of no less than ten guests arrive at the Reception desk – a clever device as we are then introduced to them as they each check in. Roxanne, the glamorous mother of teenage, pop sensation, Sugar, two couples, Sam & Cherry and Jim & Tilly, planning a drinking contest in the bar, George and his miserable, whining wife, Linda, Evan, an undercover journalist and Charlie, a quiet, well-mannered widower who visits the hotel each year.
While Arabella, the arrogant new concierge, has no interest in helping guests at all, the very jolly Lillian, (housekeeper/porter/ barmaid), eagerly offers to help carry everyone's bag. Beth Hall shows off her fine comedic talent as she struggles to lift enormous suitcases over a row of seats, like the hilarious antics of Laurel and Hardy. This delightful performance is also reminiscent of the iconic role of the French maid in Noel Coward's 'Private Lives.'
Chef Sue – the charismatic Bethany Williams-Potter - returns to confront the smarmy Mr Cartwright, (smoothly portrayed by Jasper Cattell). This time she is armed with a soup ladle, to demand her Best Restaurant award as she has to get back to kitchen, and, with a touch of Gordon Ramsay fury, screams, "I have fish to finger.!"
The narrative develops into a crazy caper involving various escapades – the disappearance of a valuable possession, a stalker on the hunt for Sugar,  bisexual love affairs and hidden secrets unveiled.  With all this frantic action going on it does becomes rather hysterical, while an investigation is carried out to find the thief reaching a final denouement in parodied Poirot style.
This is an ambitious, sharp, witty play by Kimberley Taylor with well-rounded characters – perhaps rather too many actors crammed onto the very small platform stage with moments of OTT theatricality and unrealistic scenarios.
While often undermined as silly pantomimic fun, the classic tradition of farce is defined thus: "to entertain through situations that are highly exaggerated, extravagant, ridiculous, absurd and improbable.' 
Akin to the brilliant buffoonery of Fawlty Towers, "A Weekend Away at Hotel Decevoir" is a slickly directed, fast paced, farcical sitcom-crime drama, packed into a frenetic fifty minutes, performed with tip-top comic timing and panache.
Show times:
The Space @ Surgeons' Hall
6th – 14th August, 14:45
Ticket Prices: £10 / concessions £7
Fringe box office: https://tickets.edfringe.com/whats-on/weekend-away-at-the-hotel[1]decevoir
Suitable for: Ages 18+