Image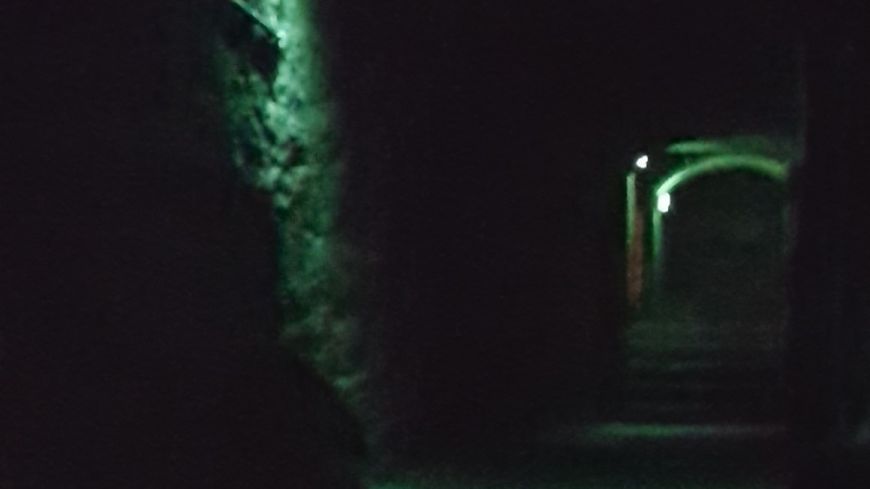 Company
Auld Reekie Tours
Production
Midnight Paranormally Active and Haunted Underground Vaults Tour
Expectations were understandably high for a tour of what is described as "the world's most haunted and paranormally active location".
The rendezvous point was some way up the Royal Mile, and about a dozen or so of us gathered for the tour. A couple were delayed, meaning it was ten minutes late starting, but then we were off, the walk taking us past various landmarks, including the Heart of Midlothian and the Mercat Cross.
Our guide was softly spoken, making it difficult to hear what she was saying amid all the midnight revelry on the street, but she rehearsed the historical stories well. This wasn't quite the case when impromptu questions from the group required deviation from the script, and she was unable to tell us the difference between a ghost and a poltergeist (one of our own number had to give the answer).
The walk to the vaults, the entrance to which is on Niddry Street, took some time, and once inside, the guide told us about various instruments of torture in an exhibition of the same. All of this was really rather lengthy preamble to what we'd really come to see, but was probably predictable for a tour of this sort, and there were some interesting historical vignettes.
The vaults themselves led off a main corridor (what was a wynd); be aware that the the ground is uneven, and the rooms poorly lit. This does, however, all add to a very spooky atmosphere. One such room is today used by a group of witches, and so is out-of-bounds, though the pentagram and other associated artefacts are clearly visible through a window. Another vault, which was formerly the coven's, is now abandoned, the only thing remaining in it being its purportedly cursed circle of stones – some who have entered the circle are said to have been attacked, or have later discovered scratch marks. The two other vaults you can enter also have a plethora of paranormal activity associated with them. Certainly, there were clear and sudden changes in temperature and atmosphere, and unexplained noises were heard. Perhaps most compelling of all, one member of group managed to capture some apparent orbs and other anomalies on her camera while we were actually there.
Our guide (who, unfortunately, was unable to let us roam around the vaults freely) persevered in telling us about the history and ghostly legends, but most by now were snapping away feverishly with their cameras trying to capture evidence to analyse at the pub afterwards. However, the emergency exit from the vaults actually adjoins one of those pubs, and the noise coming from it wasn't really conducive to more subtle paranormal promptings! I've uploaded one of my own photos as the review picture – up to you whether there is actually something walking down the steps! The tour finished at 1.25am.
Midnight Paranormally Active and Haunted Underground Vaults Tour, Wednesday 14th August, midnight, (starting at) Auld Reekie Tours Police Box
Also every night, 15th – 26th August, at midnight