Image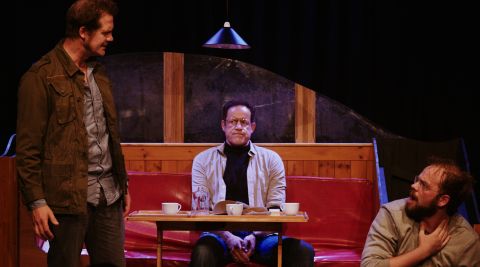 Company
Guy Masterson - TTI in association with Shooting the Breeze
Production
Ian Shaw & Joseph Nixon (co-writers), Guy Masterson (director)
Performers
Ian Shaw (Robert Shaw), Duncan Henderson (Roy Scheider), Liam Murray Scott (Richard Dreyfuss)
In the summer of 1975, the Hollywood blockbuster Jaws created a tsunami wave of panic for beachgoers worldwide, but the making of the movie was also a dramatic nightmare.  Ian Shaw co-wrote this play based on the behind-the-scenes diary of his late father Robert Shaw, who played Quint, the shark hunter.
With a blast of the spine-tingling, heart-beating score by John Williams, the set recreates the wooden banquette on board the Orca boat where Roy Scheider and Richard Dreyfuss are bored and freezing cold.  Shooting is suspended due to the malfunctioning hydraulics of the animatronic shark. "It would be easier to get a real shark ," suggests Dreyfuss in all seriousness. " $2 million over budget with no shark...it will be like Frankenstein without the monster... I think this movie will fail."  
Robert prowls into the cabin growling like a grizzly bear, portrayed with natural conviction by Ian Shaw - the same chiselled jaw and piercing eyes.  The casting is exemplary to capture the actors' looks, manner, voice and accent.  
The waiting around is intolerable for the ego-centric movie stars trapped in this claustrophobic space of the film set.  Conversation about Shakespeare, parental expectations and President Nixon descends quickly into trading barbs and one-upmanship, laced with ironic humour and laugh-out-loud witty gags.
Robert, in particular, passes the time swigging Scotch as they play a game of poker, but is suddenly interrupted when Spielberg announces filming will start again – camera rolling, Action. Not easy after excessive consumption of alcohol.
This intimacy of their situation is tightly, tautly directed, shifting from moments of calm reflection to stormy outbursts of anger.  
Based on authentic events, the factual narrative creates a thrilling, gripping realistic drama which packs a punch.
A most powerful, poignant scene is when Ian Shaw re-enacts his father's famous Indianopolis monologue with such quiet, emotional intensity:
"Sometimes that shark looks right at ya. Right into your eyes. And the thing about a shark is he's got lifeless eyes. Black eyes. Like a doll's eyes. When he comes at ya, he doesn't even seem to be livin'… 'til he bites ya."
Show times:
2, 3, 6, 8, 10, 13, 15, 17, 19, 21, 23, 25 August, 2019  @ 11:00
(extra performances are being added - check Assembly box office for confirmed dates)
Tickets: £13.00 (£11.00) £15.00 (£13.00)
Age guidance: 12 +