Image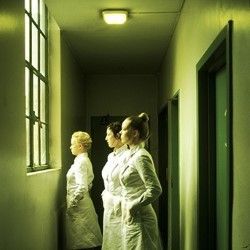 Company
JO STRØMGREN KOMPANI (JSK)
Performers
Jo Strømgren (Director, Writer, Choreography) Stephen Rolfe (Lighting Design) Hans Skogen Lighting Engineer) Ken Ruben Theodorsen, \ Lars Årdal (Sound Design) Reidar Richardson (Sound Engineer) Catrine Gudmestad (Costume Design) Jo Strømgren Kompani (Production) Bit Teatergarasjen, Norwegian National Theatre Bergen International Festival (Co Producers)
Picture a hospital in the 1960's NHS with the apparent hygiene standards of a 1930's abattoir, and that is the atmospheric staging you are faced with when you enter the performance of The Hospital at Dance Base. The drab, blood-smeared walls and bloody, dirty blankets, together with weak amber lighting, creates an oppressive, disquieting and foreboding dance landscape.
Despite nearly all of the dialogue being in Icelandic, there is absolutely nothing opaque or unclear about the emotions and visceral world these three nurses have some how forged and created for themselves. There is an entire gamut of emotion here, most of it compelling to watch with its sinister undertones and spoken/unspoken challenges, threats and twisted humanity. The dancing is simple, intermittent but beautifully interlaced with the dialogue and music.
It's a challenging piece of dance to watch, there is a hideous nature to the atmosphere you are presented with, and the characters of the nurses each have a twisted humanity. It's a dark, demonic piece with sadomasochism, self harming, OCD and a good dose of erotic power plays between the three protagonists, and yet, quite frequently, you can see a shaft of humour splinter through the darkness and shadows. Some scenes caused me to laugh out loud such are the twists and turns in this dance/play.
The performance is surreal and unworldly, aided by a fine choice of music and some extraordinarily creepy lighting set ups. Great technical support was present throughout the performance. If you're an aficionado of stage snoring come to this show; it has some of the best I have ever seen-right heard. And if you find out who Wain is please email me and let me know!
Aug 23-25  7:20pm