Image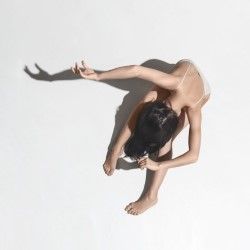 Company
Company Chordelia
Production
Kally Lloyd-Jones (Artistic Director) Janis Hart, Elle Taylor (Lighting Design) Kirsty Pollock (Asst Director) Elle Taylor (Production Manager) Marian Sharkey (Stage Manager)
Performers
Katie Armstrong, Thomas Baylis, Amelia Cardwell, Giulia Montalbano, Lewis Normand, Jack Webb (Dancers) Jack Anderson (Understudy)
6 mirrored cubes sufficient for sitting on lined up along the back of the stage. A cool moon glow fills an otherwise empty stage. For all its simplicity it is a beautiful opening scene, and the metronome beating of a heart commences the show, returning again and again.
There are multiple layered metaphors and a rich depth of emotion gathered in this exploration of our relationship to death. The forms do not leave the audience confused, as they often do, and create a constant reinforcing rhythm within the performance. The opening transition into a scene of crashing and retreating waves was a perfect start, reflecting for me the endless repetitions of life and receding and falling of lives.
The choreography and the dancers create a myriad of vignettes and scenes which beautifully and gently expose both the bitterness, confusion and the release of our mortality. It is an ensemble cast with each playing individual but never independent roles. Performances are confident and assured and undertaken with commitment and focus. There are consistent elements present within the performance of anxiety, fear, futility and occasionally despair.
The mirrored boxes play a major role, taking on various guises and forms: everything from gravestones to seats and reflections of our isolation, even the burden of our grief. The music is rich and varied and always an excellent complement and counterpoint to the theme and dancers.
(I must make one negative observation. On this performance, Studio 1 had a furnace-like interior. It impacted severely on my enjoyment of the performance and on my ability to concentrate. I cannot imagine the toll it takes on the dancers; it really needs addressing.)
Times: 3-4, 6-11, 13-18, 20-25 August, 5:00pm