Image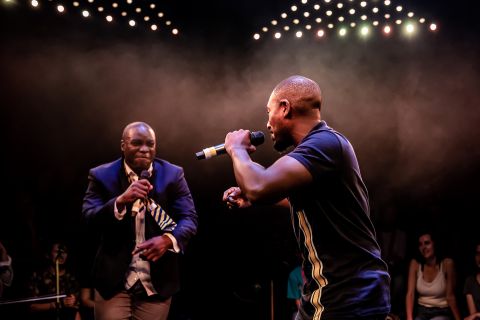 Production
Daniel Ward (Writer); Paul Smith (Director); Prez 96 (Music Co-Composer); James Frewer (Music Co-composer); Ryan Harston (Movement Director); The Other Richard (Photography)
Performers
Daniel Ward; Nigel Taylor (AKA Prez 96); Laurie Jamieson; Rachel Burns
Mixing together hip-hop, grime, and writing that lyrically flows, this show is a great example of gig theatre, with its blend of storytelling, performance and live music. Set in the round, this piece works well in drawing the audience into the semi-autobiographical story that Daniel Ward nurtures to life.
Ward's writing is beautifully nuanced, particularly in the way he encompasses the fable of the title, weaving it into his story. The writing works seamlessly hand-in-hand with the music, bringing to life the experience of a black working class child in a white middle class school.
The four-strong ensemble is skillful, and each gets the opportunity to shine at different points. Ward himself brings great warmth to the stage, coupled with a poignant subtlety that clearly conveys complex layers of emotion, while Nigel Taylor has an open truthfulness to his performance: these qualities strengthen the impact of the heart-breaking moments that unfold. An energetic and thought-provoking production, this packs a powerful message.
Times: 19-25 August (not 20), 7:50pm