Image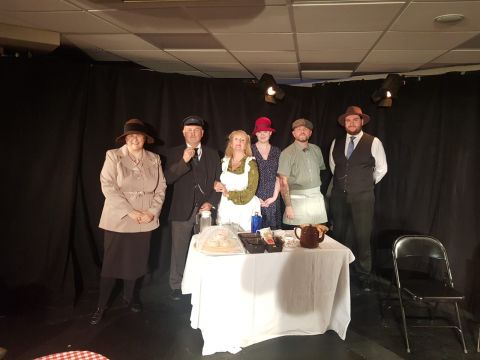 Production
Margaret Wales (director & costume design), John Ford (sound)
Performers
Margaret Wales (Beryl and Dolly), Alan Birdsworth (Stanley), Jackie Kennedy (Myrtle Bagot), John Ford (Albert), James Belcher (Dr Alec Harvey), Anna Carson (Laura Jessop)

This charming one act play (1935) by Noel Coward was later adapted into the classic romantic weepie Brief Encounter, (1945). A romantic tale of a lonely mother and housewife, swept off her feet by a handsome stranger with the chance to escape her dull suburban life.
The action takes place in the Railway Refreshment Room at Milford Junction train station where the brisk, brusque manager, Mrs Bagot and Beryl the cheery waitress, serve tea, bath buns and the occasional brandy.  Impatiently waiting for her train, Laura in a blue spotted frock and red cloche hat, goes out to the platform but rushes back:
Laura – Oh, no please, it's only something in my eye.
Myrtle – Try pulling down your eyelid as far as it'll go.
Albert – and blowing your nose
Alec – Please let me help. I happen to be a doctor."
With a speck of coal dust quickly removed, this is their first brief encounter at a red checked covered table as Alec and Laura introduce themselves with polite small talk - but the spark has been lit.  With a shriek of a train whistle to warn them of their respective departures, Alec suggests meeting again next Thursday.  With a hesitant pause, Laura gets up to leave, but turns impulsively, "I'll be there!"
Through a few short, snappy scenes, their friendship develops over coffee, teas and lunch on a dangerous journey towards adultery. This was sordid, forbidden love at the time, with which Coward, a closet homosexual, could empathise. 
The play is also a study of sexual manners across the social classes of the period. Myrtle trying to avoid the amorous attentions of Albert, the station master with sardonic wit, while Beryl (sneaking a quick biscuit when no-one is looking), is wooed by her caring colleague, Stanley.
Most unfortunately, the central roles are played with a constant sombre tone of voice.  Laura is always tentative and nervous while Alec has a serious. dead pan look on his face.  Perhaps their gloomy demeanour is trying to convey the shame of their secret love affair, but they fail to express a tiniest tingle of emotion. This couple is not happily in love.  
While the train sound effects set the scene, mismatched costumes and dress sense do not create a vintage 1930s ambience. The text has been edited by ten minutes, cutting some crucial lines and scenes thus losing the clarity of the plotline.  Certain passages are gabbled at break neck speed like the steam trains racing through the station.
Still Life is curiously listed under Comedy in the Fringe Programme, but playing for laughs destroys the romantic tension and dramatic punch of Coward's beautiful, bittersweet play.   
Show times:
19 - 24 August, 2019 @ 19:50
Tickets: £8
Age guidance: all ages