Image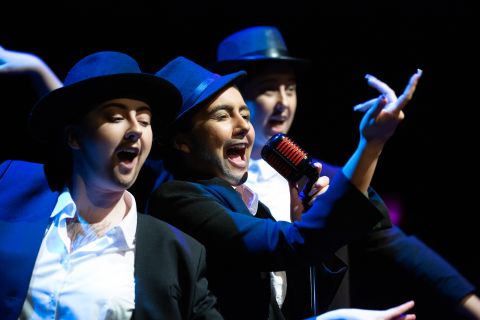 Company
Mrs Pankhurst's Players
Production
Emma Heron (Artistic Director); Charlie Jones (Associate Director); Kate-Elizabeth Carey (Costume, Set, Make-up, Designer); Melissa Schofield (Stage Manager); Kazia Cannon (Movement Director); Becca Cummings (Marketing Manager); Rebekah Baddeley (Outreach & Education)
Performers
Josh Chadwick (Trucio); Rebekah Baddeley (Kate); Tom McGeough (Baptista); Francesca Peacock (Bianca); Georgie Cunningham (Lucentio); Emily Kirwin (Biondello); Megan Crossland (Tranio); Dan Vernon (Gremio); Theo Lloyd (Hortensio); Phoebe Orsmond (Widow)
Unsettling is the first word that comes to mind in describing this show. It tackles one of Shakespeare's problematic plays, which originally had the premise that women need to be kept in their place. This version, however, looks at the play from a different standpoint and keeps the focus on the troubling elements of how women may be silenced and coerced by those around them.
The drag king chorus are particularly striking and their interactions during the play bring a watchful energy to the piece. It feels like more could be made of their involvement, but their moments work very well. The move from chorus to the unfolding of the play feels abrupt, so the change of pace slowly draws the audience in; however, this slow burn then means that a particularly shocking moment in the piece is unexpected, blindsiding the audience. From then on, the atmosphere darkens to its heart-breaking conclusion.
While there is some unevenness in the strength of the actors, what this ensemble does is believably turn around the narrative of The Taming of the Shrew, making a statement that packs a powerful punch. Kate's famous last speech seems so relevant that it is surprising to realise it has not been rewritten, leading to an emotionally charged ending. The uneasy silence of the audience leaving the auditorium speaks volumes to the impact of the piece.
Times: 19-24 August, 11:40am