Image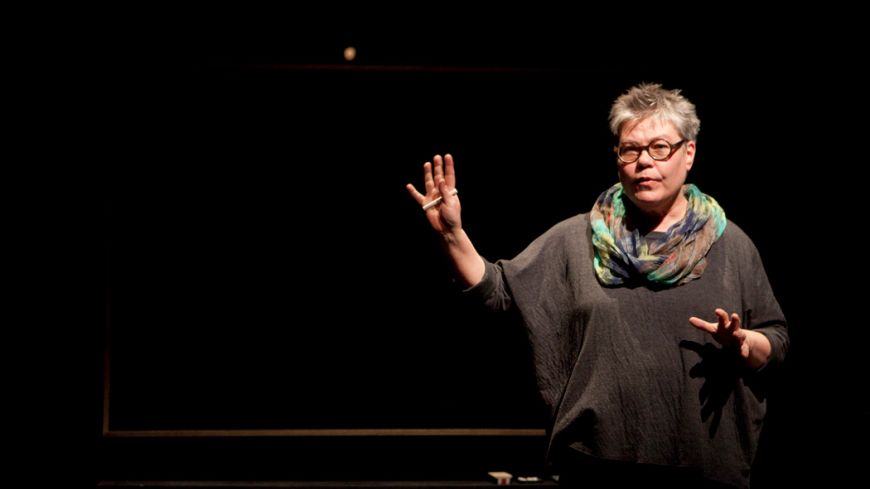 Company
The Theatre Centre
Production
The Theatre Centre, CanadaHub
Performers
Alanna Mitchell
Anyone who follows the science of climate change closely is probably deep-down uneasy and quite possibly horrified by the increasingly perilous state of our planet. But communicating that sense is not always easy. 
Early on in her one-woman show Alanna Mitchell says that she's not a scientist, nor an actor, she's a journalist. Her response is to tell stories in a gently spoken, semi-biographical and amusing monologue. 
When the show starts the house lights stay on for a while giving the sense of being in Mitchell's living room. She disarmingly informs us that being up here on stage is one of her "recurring nightmares" but, we later find out, that like a hero on a quest she feels obligated to be here, to share the "biggest" story ever. 
The story is the deteriorating health of the world's oceans, in particular increasing acidification caused by human emissions from burning fossil fuels. It's an aspect of the emissions story that she feels has largely gone untold (at least, in the mainstream), although it is directly related to the warming of the oceans caused by atmospheric greenhouse gases.
There is, necessarily, a good deal of potted science - Mitchell even chalks up CO2 and Ph numbers on a blackboard at one point - but what hooks you are the anecdotes and personal revelations that intertwine Mitchell's revelatory journey. 
It's after accidentally drinking a sample from a toxic red tide on a research trip, that she has an epiphany about the central role of the ocean in the web of life.
Mitchell paints vivid pictures of her meetings with a series of high level climate scientists and marine biologists trying to fathom the depths of the ocean's ailment, from snorkelling during a great coral spawn observation in Japan, or dropping in a deep-water chamber to the murky deep with a biologist who looks like George Clooney. 
Sometimes details, given in passing, speak volumes. The Mediterranean aquarium in Plymouth had to stop using the word "Mediterranean" because the species housed by the aquarium no longer live in that sea, having moved in the wild further north, "refugees from the heat" says Mitchell.
At other times, Mitchell has to go to her blackboard. For example, sharing marine scientist Carol Turley's three things that you need to know about ocean pH.
The science is concise and clear, but it's the self-deprecating humour and personal touches that give the piece its strength.  The daughter of a biologist living on the Canadian Prairies practising "meat-and-potatoes science", she recalls her doubts and uncertainty about her ability to tell this story, given its epic proportions, but by the same token she has a wide-eyed, often awed fascination for the work of the scientists that she meets that is infectious.
Her final, hopeful conclusion is that guilt is holding us back from resolving this issue and we need forgiveness to solve it. Her argument is eloquently made, and though its brevity stretches it thin, it makes a good launch pad for further discussion.
Many people are deeply concerned about these issues. Having made a climate change documentary six years ago (inspired in part by Rob Stewart's documentary on ocean acidification called Revolution), it's encouraging to see the success of Sea Sick at the Fringe. The auditorium for the 12.30pm show was full - and afterwards many stayed on for the short Q&A with the Mitchell.
This is a model for communicating a distressing and complex issue in an accessible and entertaining way. Go see it.
Times
12.30pm, til 25 August