Image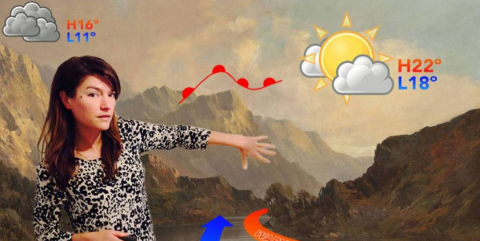 Production
The Chop, CanadaHub
Performers
Anita Rochon, Nish Kumar
Vancouver-based Anita Rochon is deeply concerned about climate change. So much so she set herself the challenge of creating a touring show which didn't involve dumping tons of carbon into the atmosphere. She decided she, herself, could not tour. 
The solution she came up with is a curious fish, a "performance thing" she calls it at the start of the show, where each evening a different stand-in plays the central character against a green screen.
The set-up is as if you were watching a weather forecaster live in the studio - on the left half of the stage is the live performance in front of a green screen, on the other half the performer superimposed on pre-recorded footage and graphics, albeit here the video is more spidery and blurry than broadcast quality.
Tonight the bearded, burly comedian Nish Kumar is in the role of Anita. As Rochon's narrative reflects on the sometimes bizarre culture of TV weather forecasting, Kumar gamely performs silently along, pulling faces and waving his hands. It's a far from polished performance, as you'd expect, and at first Kumar bumbles, as if trying to find his way. 
Gradually Kumar grows into the role particularly when the script moves from a documentary-like monologue about naming conventions for hurricanes to a conversation between Kumar and the recorded Rochon. Seated together on a plane Kumar bats off a succession of Rochon's open-ended questions with a quick wit honed on the comedy circuit.
Kumar's rough and rude interactions with the recording are greeted with laughter from the audience, though it's often difficult to follow the line between these sketches and the more earnest musings in Rochon's monologues on over-population, false appearances, and technological advancement.
Perhaps the most important aspect of this intriguing hour is that Rochon has achieved what she set out to do - a more climate-friendly production. May others learn from it.
Runs til 25 August, 5pm