Image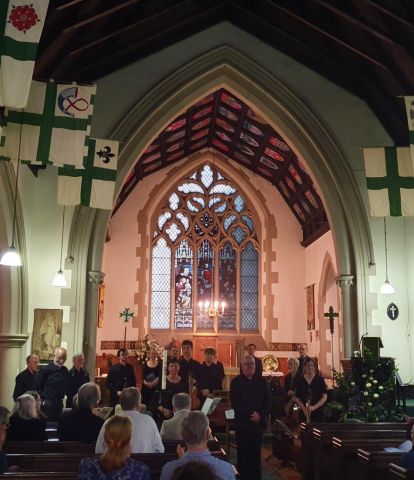 Production
Membra Jesu Nostri (Dieterich Buxtehude)
Performers
Les Shankland (director), Libby Crabtree & Jenny Nex (sopranos), Katie Brooks (alto), James Hutchinson (tenor), Hugh Hillyard-Parker (bass)
Part of the programme for St Vincent's week long Sacred Arts Festival, this was a fascinating recital of a rarely performed piece.
Seven succinct cantatas compose a meditative reflection on the crucified Christ, with the text taken from the mediaeval hymn 'Salve Mundi Salutare'.  Each cantata is inspired by a biblical text reworked into a sung devotion, with each section addressed to one of the Limbs of Christ, the title of this work.
Quality performances from the soloists, made this a particularly inspiring performance. The amazing voices of the two sopranos were very different, but complemented each other incredibly well, the division of the aria in Ad Manus working superbly; similarly, the 'vulnerasti' dialogue between the sopranos and bass in Ad Cor, in the reprise of the concerto, was simply sublime.
There were occasional problems of balance in the recital, with the instrumental section sometimes overpowering the voices behind them; this was particularly noticeable in Ad Pectus, where there was no soprano line. Ad Cor had a somewhat shaky start, there clearly being an issue with one of the viola da gambas.
However, there were some lovely and special touches in this performance. The concerto of the third cantata was pulled around quite a lot, which, combined with a heavenly introduction, resulted in it being wonderfully expressive. Of particular note too was the extra violin ornamentation beyond Buxtehude's original score, which gave added richness and colour, especially in the ritornello sections. This was a courageous and impressive performance, which finished at 8.30pm.
Membra Jesu Nostri, Thursday 15th August, 7.30pm, St Vincent's Chapel