Image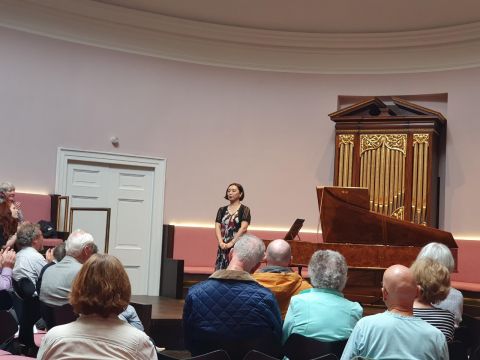 Company
Friends of St Cecilia's Hall
Production
Suite no. 1 in C, MC A13 major & Ciacona in G, no. 7, MC A19 – both from Componimenti Musicali (Gottlieb Muffat); Suite no. 4 in E minor HWV429 (George Frederic Handel & Gottlieb Muffat)
Performers
Masumi Yamamoto (harpsichord)
There are many musical recitals taking place at the Fringe, but this one immediately struck you as being a bit different. 
Not only were we able to hear the beautiful 1755 Kirkman double-manual harpsichord in Scotland's oldest purpose-built concert hall; but the programme itself had an eye-catching, maybe naughty title. Handel is well-known for borrowing material from other composers for inclusion in his own works; here we heard one of them, George Muffat, doing the same to Handel, with his 1736 'improved' version of Handel's Suite No. 4 in E minor.
Muffat added numerous ornaments to the work, along with various other revisions, making the texture seem thicker. The recitalist, Masumi Yamamoto, explained to us at the beginning that performers of the time would generally be expected to know where to put the ornaments, and that they were not always written in – so the charge of outright plagiarism isn't quite fair. 
Despite the title of the recital, most of the programme was taken up with two of Muffat's own works from his 'Componimenti Musicali', which sandwiched the reworked Handel suite. But these fitted in well, as we were told how Handel went on to quote from the first of these pieces, the opening motive of his 'Ode for St Cecilia's Day' seemingly based on the 'Courante' from Muffat's Suite no. 1. The Suite itself, bar a couple of errors, was performed superbly – it was particularly pleasing to hear the harpischord's close-plucking lute stop used in the Trio, and the final Allegro certainly had the wow factor.
Yamamoto always likes to finish with a Chaconne, and so it was a delight to hear Muffat's short but impressive Ciacona in G – especially the characteristic minor middle section, which was so highly expressive. Thankfully, apparent problems with acoustics at an EIF recital at the venue, when other instruments were played in addition to the harpsichord, didn't apply on this occasion, and the beauty of the instrument – and most especially Yamamoto' performance – made for a wonderful afternoon. The performance finished at 4.00pm.
Handel Revenged, Wednesday 14th August, 3.00pm, St Cecilia's Hall