Image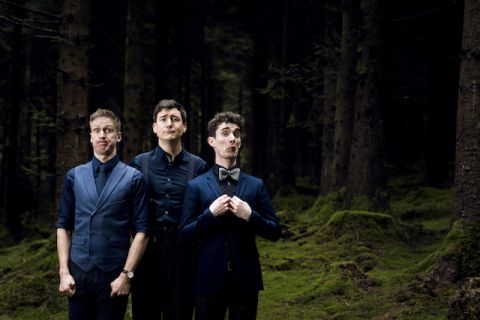 Production
Sean Finegan, Conor McKenna, Sean Flanagan (writers), Eoin Kilkenny (lights).
Performers
Sean Finegan (Foil), Conor McKenna (Arms), Sean Flanagan (Hog).
Foil Arms and Hog, internet sensations, return to the Edinburgh Fringe to premiere their new show 'Swines' in the magnificent McEwan Hall. With a mix of sketch comedy, audience participation and improvisation, this is the epitome of a fun night out. The energy and connection between the trio seems very genuine. Friends who met in University and 'still like each other (no really).' They appear to be having just as much fun performing as we are watching, openly laughing at themselves if a particular joke doesn't land. Somehow the audience laughs harder than if it did.
There is use of lighting and soundscapes but it is the intense physicality of the comedians that transports us to different worlds. From a mime weight lifting competition, to eighteenth century Vienna visiting a rather catty Beethoven, even all the way to the top of Mount Everest. Not only will their characters and delivery leave you in stitches, the punchlines are expertly timed, sometimes by music, to hit on moments of rehearsed genius.  
Every sketch's ending, however, is left open for a bit of improv which forms a real connection between Foil Arms and Hog and their audience. We can share in their infectious silliness and be in on the joke. Right from the beginning the comedians firmly integrate themselves among the audience, poking fun at passersby even stepping to the side and allowing some members their spotlight.
Even with references to the current political unrest, the show is incredibly upbeat. From years of touring, the Irish company have perfected an innate ability to charm, educate and make even the most tense of crowds relax and have a well-earned giggle.
Dates and Times: 31- 25 August, 9:00pm.
Suitability: 14+
Prices: Vary depending on date and seating
https://tickets.edfringe.com/whats-on/foil-arms-and-hog-swines