Image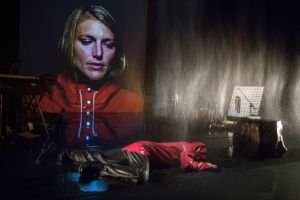 Company
KOPERGIETERY, KGbe, Arsenaal/Lazarus, Richard Jordan Productions, Theatre Royal Plymouth & Big in Belgium in association with Summerhall.
Production
Johan Harstad (writer), Charlotte Vandermeersch (adapter), Antoon Offeciers and Karen Willems (composers), Ann-Julie Versvaeke (film maker), Stef Stessel (scenographer / lighting designer), Jeroen Doise (lighting designer), Korneel Moreaux (sound designer), Annelies Rasker (costume designer).
Performers
Charlotte Vandermeersch, Karen Willems (musician).
A man lies face-down in the middle of an isolated road on the Faroe Islands, the rain pattering on his red rainslicker.  How did he come to be here?
The story begins in 1986, the year everything goes wrong. The Swedish Prime Minister assassinated; Chernobyl; the Challenger space shuttle disaster.  But in one place, Stavanger, one thing does go right. Seventeen-year-old Mattias sees Helle and watching her becomes his favourite hobby.  He is ordinary to the point of being invisible but she is a threat to his anonymous existence.
Mattias was born on the day of the first manned moon landing, something that is a continuing obsession, and in particular Buzz Aldrin, the second man on the Moon.  Being first is not for Mattias, he wants to choose to be a cog running smoothly in life.
But a fancy-dress party (he is, of course, Aldrin the astronaut), will see him orbit Helle, the gravity sucked from under him as he is thrust into the limelight.
Twelve and a half years on, his ordinary existence breaks apart and he lands in a sort of a psychiatric half-way house, the lives of others tumbling into his, filling up the cracks through which he has been disappearing into himself. He will share Aldrin's struggle with the emptiness of inner space as he tries to decide on letting go and daring to live.
The production is like a beautifully detailed Scandi road movie; a hugely atmospheric trip against a landscape of magnificent desolation, where even "the non-existent trees have lost their leaves".  The superb film work and live soundtrack provide the perfect multimedia background and pop-culture references.  While the character of Mattias is never clear cut the performance is absolutely polished.
Hauntingly different and not something that should fly under the radar.
Show Times: 31 July to 25 (not 5, 12, 19) August 2019 at 10am.
Tickets: £12 (£10). 
Suitability: 14+.