Image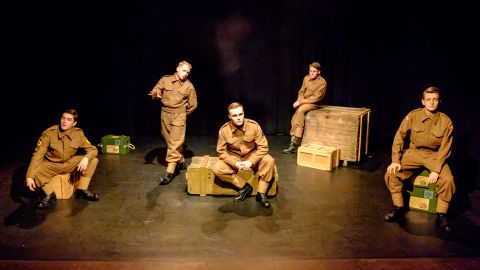 Company
Everwitch and York Normandy Veterans
Production
Helena Fox (Playwright & Director); Sam McAvoy (Composer); Steven Woolmar (Lighting Design); Michael J Oakes (Photographer)
Performers
Danny Mellor (Ken 'Cookey' Cooke); Joseph Sample (Ken 'Smudger' Smith); Thomas Lillywhite (Albert 'Bert' Barritt); Carl Wylie (George 'Merry' Meredith); Jack Chamberlain (Dennis 'Hank' Haydock); Beryl Nairn (Queenie)
A powerful and emotionally charged play, Bomb Happy is a fine example of the strength of verbatim theatre. With simple but clear direction, Helena Fox has produced a fitting tribute to those who were part of the D-Day landings.
The show is opened by a monologue from the wife of a veteran, describing the challenge of memories and the impact on her husband of his time during WWII. We meet the five soldiers as they sign up and tell their individual stories: these men are teenagers. The cast is strong and we feel we get to know the characters as people. To see what they have seen; to experience what they lived through: the ensemble describes those stories with heart. The use of direct address to the audience works very well, engaging those watching with ease.
The music complements and underpins the text with both familiar songs and new music evoking the atmosphere of the time. Great use is made of the minimal props, particularly towards the end in a touching metaphor that recognises the sacrifice made. A moving play, this brings alive the reality of warfare through an honest and sensitive portrayal of lived experience.
Times: 21-22 Aug @ 2:20pm; 23-25 Aug @ 3:40pm (Veterans in attendance on 23, 24 Aug)