Image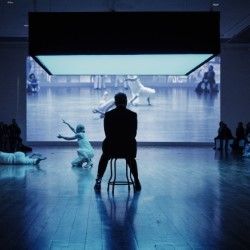 Company
CoisCéim Dance Theatre
Production
David Bolger (Direction/Choreography) Christopher Ash (Designer/Media Artist) Michael Fleming (Composer) Catherine Compson, Aaron Kelly (Production Manager) Michael Stapleton (Asst Production Manager) Dylan Farrell (Stage Manager) CoisCéim Dance Theatre (Production)
Performers
Lee Clayden, Ivonne Kalter, Jonathan Mitchell, Emma O'Kane (Dancers)
There's a fantastic projection set up when you enter the dance space. Every surface is covered in images. It resembles a giant cathedral tapestry of portraits all thrown against the walls by a set of industrial strength projectors. Ambient calming music plays as the audience settles.
A subject, a participant, a previously selected individual is briefly and inaudibly interviewed and briefed and then systematically photographed. Each wall tessera now slowly changes to one of a captured image of the person in different states of emotion or reaction. These are the building blocks of the choreography that follows, the source code for the dance that follows.
The process feels voyeuristic in parts, we are a third party looking on as this hybridisation of interpretation, image and interaction take place between the different players. The set and costume design is minimal and white, almost surgical, and it matches the apparent dissection of the person upon whom so much attention is being focussed. This is an experiment in identity and emotion, an analysis of what and how we can be perceived.
The tone and rhythm of the piece must be strongly influenced by the character of the person who is at the centre of attention. The dancers must have developed a sixth sense for when to explore deeper and in greater depth a facet or element and when to move on. The atmosphere for this performance verges on the subdued.
The camera work during the piece is a technical masterpiece and some of the projected images created are quite beautiful and thought provoking.
Aug 23-25  2:40pm