Image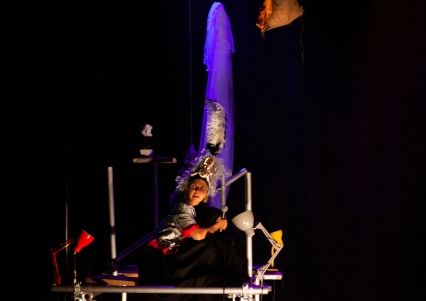 Company
Caroline Horton & Co., China Plate, Cambridge Junction and The Yard Theatre
Production
Caroline Horton (writer / composer), Alex Swift (director), James Atherton (composer), Lucy Hopkins (associate director), Eleanor Field (designer), Katherine Williams (lighting designer), Elena Peña (sound designer), Annie Siddons (dramaturg), Charlotte Bickley (associate sound designer), Anthony Osborne and Jules Riley (production managers), Lou Platt (artist wellbeing practitioner).
Performers
Caroline Horton
"Hello, I'd like to apologise for what happens next …"
There follows an overly dramatic explanation that the show might not live up to being theatre or art, and that the performer might have gone a bit off-piste. It might not even be the planned show, and has only had jokes added to prevent it being unrelentingly bleak.
She is not always at her best; she thinks about dying … a lot.  Prepare for a not entirely linear mythical idiosyncratic journey into the darkness of her underworld.  It's a land where she can grind to a halt, unable to even shower or change underwear, where days of respite at the beach can suddenly cloud over. Now she is once again doing the dirty laundry and attempting to sort out her shit. 
It's a sung-through odyssey amidst tea and sympathy groups, red wine self-medication, meeting her demons and trying to make sense of an unreasonable world full of the militantly OK.  It's an existence where success meets failure and light follows dark follows light.
The words are eloquently poetic, the music eclectic, drawing on a range of influences from electronic, classical to avant-garde.  Electronic loops are used to layer sounds and voice modulation gives her "sister" a hair-raising demonic growl. Only occasionally towards the conclusion do the words get a little swallowed by the music. While other shows merely dance with the issues of mental health this raves with it.
Strange, dark, disturbing, delicious – accept no apology, this is splendid in the moment and both theatre and art.
Show Times: 31 July – 25 Aug (not 12 or 19) 2019 at 3.10pm.
Tickets:  £15 (£10).
Suitability: 14+.